Insight: PMR systems not fit for purpose
Opinion
Insight: PMR systems not fit for purpose
In Opinion
Hear the opinions and comment from some of the top names in pharmacy. Make sure you get in touch and share your opinions with us too.
Bookmark
*By Alexander Humphries
Technology has transformed the way we live – unless you are a pharmacist with a PMR system, in which case you are pretty much in the same place you were a decade ago...
My mobile phone network knows that unless it keeps me happy I can easily (well, quite easily) move to another network. The same cannot be said about PMR systems.
It is very difficult to move to another supplier – particularly when the big companies provide pretty much the same offering in terms of price, service and technology. I just don't get any sense that they view pharmacies as customers, and they seem to have little interest in the way that our businesses are changing.
Unless we can find a way to change this dynamic, the gap between what our technology can do, and what we want it to do, will grow and grow. This could potentially be crippling to pharmacy businesses in an age when customers are increasingly chasing digital by default and struggle to engage with analog pharmacy systems.
The bottom line for me is that technology should make it easier for customers and patients to engage with pharmacy. That could be something as simple as two-way messaging between pharmacy and patient. Our systems do have the capability of sending SMS text messages to patients to let them know, for example, that their prescription is ready. But this is one-way messaging that doesn't add much value to the patient experience.
Two-way messaging could help to transform the way patients use pharmacy. They could ask us questions like "What time are you open today?" and "Can I take these tablets if I'm taking x?". Yes we all have email addresses, but when was the last time a patient emailed you?
We have to make it easier for patients to engage with pharmacy services, or they will all disappear into the endless pit of laziness that is using a distance selling pharmacy.
Humans are lazy and want to do as little as possible. In our case, they want pharmacies to be plugging in their crystal ball to predict when they are going to run out of medicines, order the medicines that they want and have them ready before they run out.
Our PMR should really be a patient relationship manager (PRM), helping to underpin our whole operation in a much more digitally savvy way. We should have much greater ability to understand our own data, so that we can be more responsive as a business.
Humans are lazy and want to do as little as possible
Dashboard
This means that I should be able to see a dashboard showing how many patients I have with diabetes, epilepsy or respiratory conditions. This would allow me to understand what services I could and should be offering.
If I want to send a message to all of my patients with asthma to tell them about a smoking cessation clinic, I should be able to do this from my PMR system.
Barcode accuracy checking is not new, but most PMR systems either don't do it, or don't do it well. For me, there is no need for an accuracy checking technician when we can replicate the benefits through the proper use of technology.
We could do this more cheaply, safely and efficiently within weeks rather than waiting years for someone to finish an NVQ3 and accuracy checking course. And the system won't then leave to go to work in a hospital or GP surgery...
We've recently started offering an eMAR service to a new care home and this has reinforced my belief that we can do things better with technology. Out with costly, risky and time-consuming MDS, and in with original pack dispensing. Much easier from our end, and ultimately safer and better for the end user.
Scandal
Now, this is a bit awkward, but bear with me. In our small team we've got something of a 'to do' going on. One of our colleagues is having (cough) an affair. I'm going to call the lady in question Stacey.
The problem is that Stacey isn't really keeping this affair a secret, and the rest of us have grown more and more uncomfortable, particularly as we all know Stacey's husband.
Things have been getting progressively worse of late as she has started getting parcels delivered to work. I thought absolutely nothing of it, until I walked into the dispensary one day to find her holding some lingerie up to show one of her colleagues. It was the same colour as my face – bright red.
They don't teach you about this at pharmacy school and I just don't know how to deal with it. It's not like I can ring up the RPS or GPhC and ask them for advice. Any suggestions?
* Pen name of a practising community pharmacist. Alexander Humphries' views are not necessarily those of Pharmacy Magazine. What would you like your PMR system to do? Email pm@1530.com
Sponsored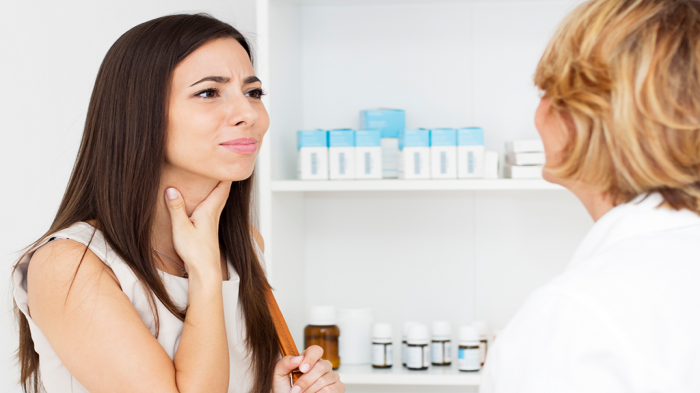 Sponsored education
This module will help you to understand and educate customers about the risks of antibiotic resistance, and recommend products to help them effectively manage their sore throat symptoms.
Sponsored education
Work through a customer consultation to determine the possible cause of stinging, gritty eyes and recommend an effective treatment to help ease these symptoms.
Record my learning outcomes
Opinion
Hear the opinions and comment from some of the top names in pharmacy. Make sure you get in touch and share your opinions with us too.
In Opinion
Hear the opinions and comment from some of the top names in pharmacy. Make sure you get in touch and share your opinions with us too.
Bookmark