Getting to grips with revalidation – an essential guide
Latest
Getting to grips with revalidation – an essential guide
The GPhC's new revalidation process has got under way. Under the new system pharmacists and pharmacy technicians must submit their CPD records before their annual registration expires or risk not being allowed to practise.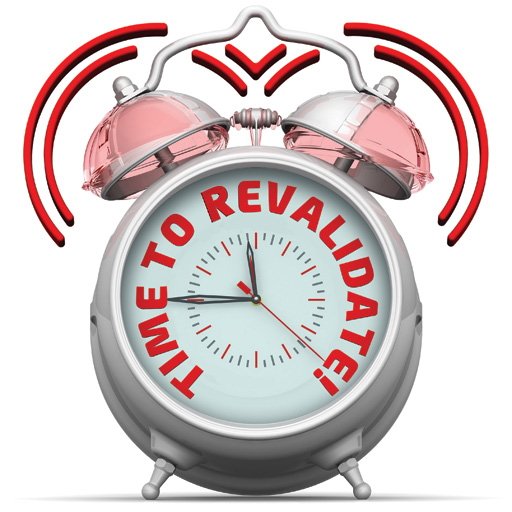 Today (March 30), a new system of revalidation replaces the current continuing professional development (CPD) requirement for everyone registered with the General Pharmaceutical Council.
Revalidation is the process by which a supervisory body – in this case the GPhC – confirms that the professionals it regulates are fit to practise. This means that not only must pharmacists' and pharmacy technicians' knowledge be up to date, but they must have the attitude and behaviours required to provide safe and effective care.
Revalidation also provides assurance to those who use pharmacy services that pharmacy professionals are meeting the required standards throughout their career.


Key facts
Revalidation for pharmacy professionals is being introduced
Pharmacists and pharmacy technicians will be required to submit four CPD entries when they renew their GPhC registration
From 2019, all registrants will also be required to submit a peer discussion and a reflective account as part of the registration renewal process
Is it just pharmacy that is going through this?
No. Doctors have been subject to revalidation by the General Medical Council since 2012. The Nursing and Midwifery Council introduced revalidation in April 2016.
How have these professions found it?
Since 2014, NHS England has produced an annual report on medical revalidation to track progress. Last year's report stated: "The point has now been reached where the great majority of doctors have experienced revalidation and for many this has brought a sense of pride through positive re-affirmation of their professional skills and standing."
So what is changing for pharmacists and technicians?
At the moment, pharmacy professionals make a declaration when renewing their GPhC registration that they meet set standards and are fit to practise. Under the new system, the declaration will be replaced by a requirement to submit a certain number of "revalidation records".
There are three types of revalidation records:
• CPD entries to encourage reflective practice (see panel)
• Peer discussions, which enable the individual to consider his or her work with someone who understands their role
• Reflective accounts, to explain how the professional believes they meet one or more of the GPhC's professional standards.
Will my old CPD records disappear?
Yes, but not immediately. Once revalidation goes live, uptodate.org.uk will become read-only and on June 1 the system will be shut down permanently and all content deleted. The only way to keep any logs will be to print them off before that date.
What is replacing it?
A new portal – myGPhC – has been set up so registrants will be able to complete and submit all revalidation records and renew their registration. All pharmacy professionals will be sent a letter containing further details in April.
The GPhC will only accept paper submissions in extenuating – and mutually agreed – circumstances. There is, however, nothing stopping anyone keeping paper records, or a portfolio online elsewhere, before submitting through the myGPhC site.
How do I log a peer discussion?
The GPhC has drawn up a form for recording peer discussions, which involves writing down the name, job and contact details of the peer (so they can be contacted as part of the review process to confirm that the conversation took place), and describing how the discussion changed the pharmacy professional's practice for the better.
This should include examples of beneficial outcomes for end-users of the individual's services and can include feedback.
I work on my own, so how will I have a peer discussion?
There is no set format for peer discussions. They can take place face-to-face, over the phone, by video calling or web chat, for example. A "peer" can be a fellow pharmacy professional, a colleague who works in the same field, a mentor, or even a group of peers or an expert patient.
The main thing is to choose someone – rather than having an individual allocated – who is able to talk about a pharmacist's or technician's work in a constructive manner. This is also the reason to plan peer discussions, rather than them occurring spontaneously.
Can I choose which GPhC standard will form the basis of my reflective account?
No. The standard(s) to write about will be set by the GPhC each year. The account should briefly describe the registrant's work and users of services, and give one or more examples that illustrate how the chosen standard(s) has or have been met. Not only does this encourage reflective practice but it also helps increase awareness and understanding of the standards as a whole.
How many of each record do I have to do?
In the first year of revalidation, registrants will need to carry out and record four CPD entries and submit them when renewing their registration. The first group to do this will be those whose registration renewal deadline is October 31, 2018.
The following year, the full revalidation requirements kick in, so registrants will need to submit four CPD entries plus one peer discussion and one reflective account when renewing their GPhC registration. Individuals with a registration renewal deadline of October 31, 2019, will be the first group to do this.
How will I know what to do and when?
All pharmacy professionals will receive an email that includes a personal timeline.
What happens when a registrant submits his/her records as part of the registration renewal process?
The first thing that will be done is a check to ensure the correct number and type of records have been submitted. Then some will be selected for review – either randomly or in a more targeted manner – in which case the pharmacy professional will be notified and subsequently receive personalised feedback, which should inform subsequent submissions.
Everyone will receive summary feedback of the reviews that have taken place, which again may prove helpful.
What if I can't get everything done?
Anyone who is unable to submit all or some of the records required when they renew their registration will need to notify the GPhC and provide evidence as to the reason why (e.g. being signed off sick from work or taking maternity leave).
Two things may happen after this. The pharmacy professional will either:
Be allowed to renew their registration, albeit with a reduced number of records or with a deadline extension
Be asked to submit as normal (i.e. the set number of records by the renewal deadline) and will be able to appeal against this decision if unable to do so.
What if I get it all wrong?
If the GPhC decides that a registrant hasn't met its core criteria (i.e. the records haven't been submitted or haven't met expectations in some way), in the majority of cases there will be another opportunity to submit or revise revalidation records.
These will then be reviewed but if the core criteria are still not being met, the GPhC will start taking steps to remove the individual from the register. The registrant will be given the chance to supply further information that may affect the process and has the right to appeal.
If I'm struck off the register can I reapply to join?
The GPhC will ask to see a person's revalidation records as part of the reapplication process.
Why is revalidation being brought in now?
The public has a lot of trust in pharmacists and the GPhC has to provide assurance that this faith is well-placed. People used to consider that the initial training undertaken by all health professionals would stand them in good stead, but it has been realised that, in order to provide the best patient care on an ongoing basis, there is a need to stay abreast of developments and be as up-to-date as possible.
Revalidation does that by building on the reflective practice that has been encouraged since continuing education moved to continuing professional development, and by shifting the focus onto outcomes.
What do I need to do?
Locate the email from the GPhC that includes your personalised timeline, and keep it safe for future reference
Do the same for the letter that the GPhC sends in April, which explains how to set up an account on the myGPhC portal
Keep a copy of this article (or bookmark it online) and read the information provided by the GPhC to clarify any areas of uncertainty
Access support provided by employers and membership organisations such as the RPS.
Resources
Information from the GPhC on revalidation can be found by clicking here.


CPD entries: what's changed
Under revalidation, pharmacists will be required to submit four CPD records each year, which can be planned or unplanned.
At least two must be planned activities. The new format is simpler than the old Reflection-Planning-Action-Evaluation cycle, with entries for planned CPD asking just three questions, and logs for unplanned CPD asking only two.
Entries for planned learning must cover the following:
New knowledge, skills or perhaps a different way of doing something. It should either prepare the individual for a new service or role, or better equip them to fulfil their current responsibilities. There should also be an explanation of how this learning will benefit service users
The way in which the learning will be completed. A range of activities is encouraged (as has always been the way for CPD entries)
How it has benefited service users. Pharmacy professionals will be expected to explain how they have put their learning into practice – for example, being able to provide a new service, or being more confident about being able to answer questions on a certain topic. Feedback can be included, although patient confidentiality should be protected.
Entries for unplanned CPD must cover:
The activity or event that presented the opportunity to learn something new or refresh understanding. This should be specific (for example, reference to an article in a journal) and the registrant should explain what knowledge and skills have been acquired as a result
How the learning has benefited service users (as in planned CPD).
Sponsored
Sponsored education
Common feeding feeding issues, including coloc, reflux and regurgitation, and some of the ways they can be managed
Sponsored education
Viatris has created this short video based on a publication reviewing global research into the potential impact of the Covid-19 pandemic on mental health. It identifies six areas where psychiatrists can play a role in supporting people's mental health through these difficult times.
Record my learning outcomes
Latest
Inspiring stories related to health, fitness and the pursuit of wellbeing