What is the public appetite for digital healthcare?
Analysis
What is the public appetite for digital healthcare?
In Analysis
It's time to delve deeper into health discussions. Broaden your understanding of a range of pharmacy news and topics through in-depth analysis and insight.
Bookmark
The Government is committed to digital healthcare and has outlined its vision of what is needed to make the best use of technology, but is the public ready?
Despite the surge in digital health resources, the consumer journey from ailment to recovery remains largely non-digital.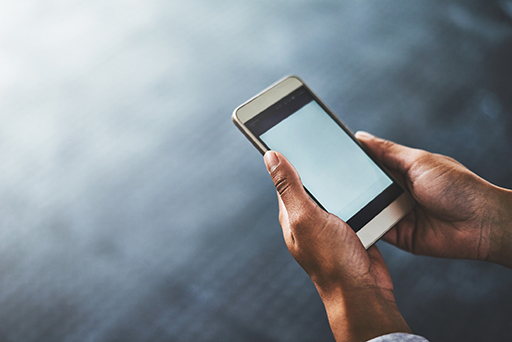 "Few are buying [health products] online and even fewer are using healthcare apps to manage conditions," according to a report by the London-based research and strategy consultancy Populus. The Rise and Stall of Digital in Health says there is "a void between the availability of digital healthcare tools and apps, and actual public uptake".
While consumers are happy to use online resources to research conditions, this only forms a small part of the consumer journey – and digital resources rarely feature as a purchase channel in healthcare. Only one in every 13 sales takes place online, according to the research – and just 2 per cent of the 18-34 age group (known as millennials) make purchases related to their health based solely on information they find online.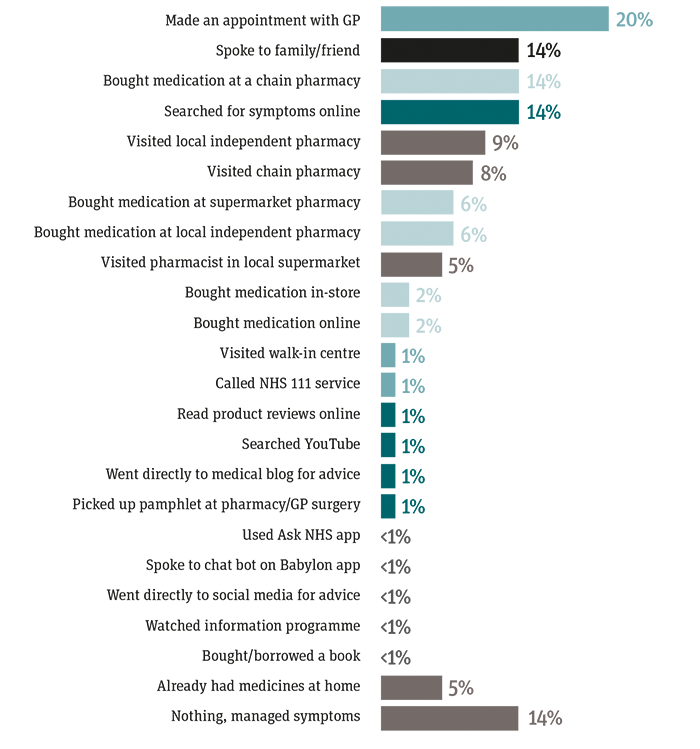 Pharmacy still ahead of technology
"It's easy to believe we're in the middle of a revolution in digital healthcare, driven by smart device ownership and the many health apps available, but this research proves otherwise," says Hamish Asser, director of brand research at Populus.
The good news for pharmacy is that the report shows that technology has not overtaken it as a point of call for health advice and support. Around a fifth of people with a health condition seek advice from a pharmacist and a similar number go to their doctor. "For healthcare, the online world simply doesn't deliver relief," the report says.
The research also shows widespread confidence amongst the UK public in self-managing minor ailments. But a quarter (26 per cent) of people with a health condition take no action rather than use a healthcare app or visit their doctor.
The top three conditions for self-managing are:
• Minor injuries (15.2 million adults)
• Ear, nose and throat (7 million adults)
• Gastric problems (6.4 million adults).
More than one in 10 choose to use a home remedy as a treatment.
Populus found that people experience an average of 3.8 health conditions in a single year, with women more likely than men to have multiple conditions. Millennials reported the highest number of minor ailments (4.4) – more than the 65+ year age group.

Significant variation
The research also found significant variation in terms of treatment paths associated with different minor ailments. For example, the public is 10 times more likely to seek advice from a nurse, GP or doctor when suffering from a skin condition (36 per cent) than a lip problem (3 per cent).
Around a fifth (19 per cent) of the public seek out information online regarding musculoskeletal injuries and skin conditions (17 per cent), but just 3 per cent do the same for minor injuries – highlighting the relevance of the urgency of the condition.
Pharmacy in its different forms was a popular source of advice, with some 20 per cent of people seeking advice from a pharmacist. This rises to 23 per cent the first time they experience a problem, highlighting the role pharmacy plays in where to go for healthcare information.
Much more could be done by pharmacists to help people in need of healthcare advice, says Professor Mahendra Patel of the RPS English Pharmacy Board. Most people live within 20 minutes' walking distance of a community pharmacy, he says, "so this statistic shows there is an under-utilisation of a valuable resource that is accessible and always willing and free to offer their professional and clinical expertise and knowledge".
Professor Patel suggests that, perhaps, "many people are still not recognising the valuable services community pharmacies offer", and asks whether there is "a need for greater awareness and better understanding of what pharmacists do, or is it just a cultural change in terms of attitudes, behaviours and practice that needs to be addressed?"
Maybe it is a gender issue, too. When women have healthcare problems they seek advice from a pharmacy, the report says, with 39 per cent of women visiting their pharmacy about feminine health issues.
"Society is growing much more open about discussing such issues and, similarly, people are getting more proactive in going to their pharmacist for assistance, as demonstrated by this statistic," says Professor Patel.
Consultation areas in pharmacies have gone a significant way in helping to offer reassurance that all concerns will be handled with sensitivity and in confidence, and will also have contributed to encouraging women to discuss health issues with their pharmacist, he believes.
However, he says there may be underlying issues as to why this figure isn't even higher. "Some women, such as those from black and minority ethnic groups, may be less willing to voice their worries in the pharmacy. There may in addition be gender and language barriers for these groups to overcome," he suggests.
While men, generally, tend to be more reluctant to seek advice about their health concerns, consultation areas in community pharmacies are well placed to offer the necessary privacy to men as well, he adds.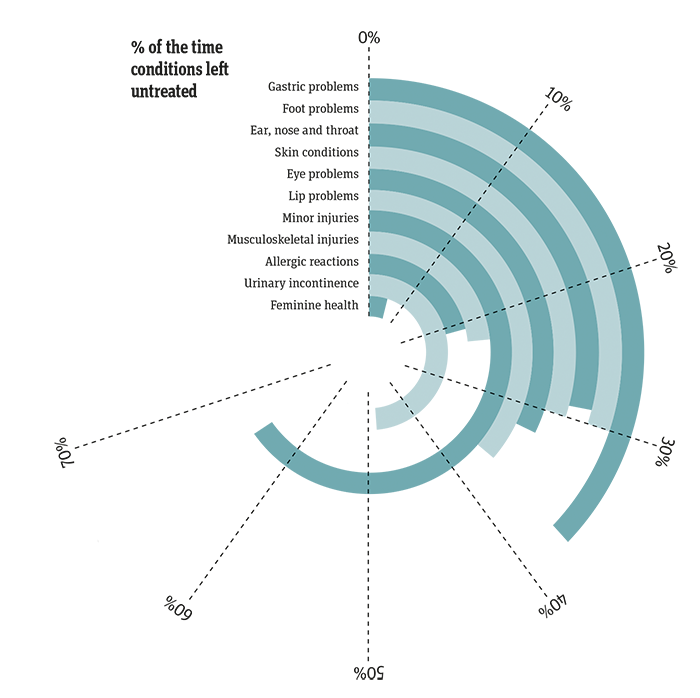 Minor ailments
Regarding minor ailments, the report found that one in four people with a minor health issue will go on to purchase an OTC medicine, but only a fraction of these are made online. Of the purchases that are made, 12 per cent are via a pharmacy chain. "It is not surprising that this was the most popular route of making a purchase," Professor Patel says.
"Some people commonly recognise brands and have a brand loyalty. This loyalty may play a significant role in terms of influencing consumer choice. And it could be perceived by some consumers that there may be more staff in the larger pharmacy chains, so people think they would be seen quicker."
Six per cent purchase health products via a supermarket pharmacy, the report shows. Professor Patel points out supermarket pharmacies often have increased footfall, "so it makes sense for them to be the second-ranking source on the list.
"However, this number in terms of purchases made may be partly due to impulse purchases while shopping at their supermarket. Also, while doing their shopping, they may be reminded of a health niggle they may want to seek advice about from their pharmacist," he says.
Equally, 6 per cent purchase via an independent pharmacy, "which shows the value that local community pharmacies can offer", says Patel.
Just 2 per cent purchase via an online pharmacy, according to the report. Professor Patel says this is a small number because "consumers generally still prefer to make purchases face-to-face, be it clothing or otherwise. However, undoubtedly this preference is more pronounced within the pharmacy context – although the online market could be on the up, albeit very slowly".
For some, ordering medication online "may be a chore, compared to the customary practice and peace of mind of seeing someone face-to-face", he says.
"People prefer to see something physical and are more assured about being able to go back if there are any further queries they may have, and to talk to someone in person."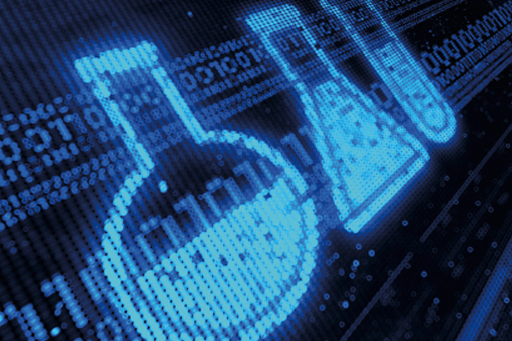 Confidence crisis
A surprising element of the report is that it reveals that even though millennials are a key consumer group that increasingly relies on digital and online tools, when it comes to healthcare they are not converting to online advice and are "highly sceptical" of such sources of information. Instead, research shows that the younger the respondents are, the more likely they are to rely on family and friends when deciding what to buy.
Among 25-34 year-olds who made a purchase, 21 per cent cited friends and family as the main influence – among 18-24 year olds, this rose to 41 per cent. Populus suggests this may be because of their inexperience dealing with minor ailments and a subsequent need for reassurance.
"Taken alongside the fact that the two youngest groups are significantly less likely to make purchases, this leads to a huge opportunity for [pharmacies] to generate new business and form habits among this group if they can present their brands in such a way that means they are on the tip of the tongue when it comes to discussions and requests for advice," the report says.
Research details
The Rise and Stall of Digital in Health report by the London-based research and strategy consultancy Populus set out to understand "the real impact" of the rise in digital on the healthcare sector. Researchers interviewed 2,004 adults (18+ years) online with quotas set on age, gender, region and data weighted to the known profile of the UK.
Sponsored
Sponsored education
Safely recommend the most effective laxative for every customer with constipation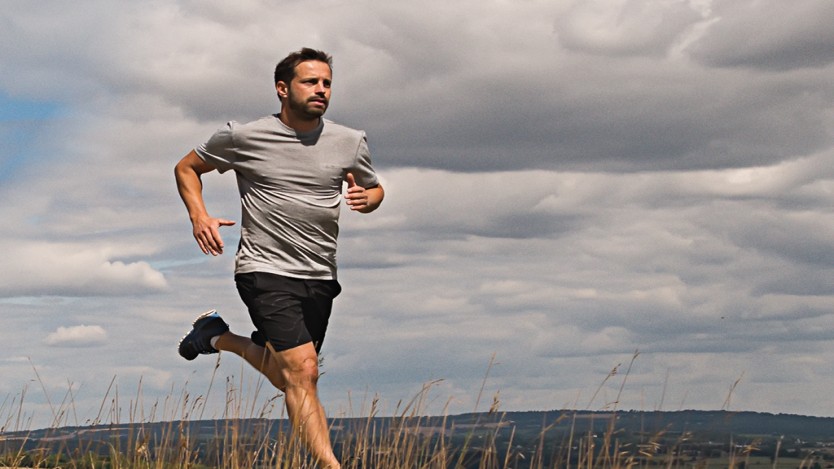 Sponsored education
Make the right recommendations to support customers to stop smoking
Record my learning outcomes
Analysis
It's time to delve deeper into health discussions. Broaden your understanding of a range of pharmacy news and topics through in-depth analysis and insight.
In Analysis
It's time to delve deeper into health discussions. Broaden your understanding of a range of pharmacy news and topics through in-depth analysis and insight.
Bookmark