Learn from key healthcare brands with a range of sponsored education to help your understanding of how to use and advise on products in the pharmacy.
EFFECTIVELY MANAGING MILD TO MODERATE PAIN

97% of people suffer from at least one type of pain over the course of a year.1 The most common types of pain experienced are back pain, joint pain, muscle pain and headaches.1
Objectives
Understand the NICE guidelines for managing mild to moderate pain
Be able to recommend an effective product to treat or manage mild to moderate pain
Know when you should refer customers to their GP.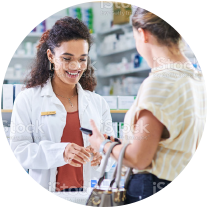 What would you recommend?
Gill, who is in her 30s, comes into the pharmacy to ask for your advice. She was gardening over the weekend and thinks she overdid it when gardening as she has had a painful shoulder for the last couple of days. She took paracetamol regularly for the first 24 hours which didn't ease her pain. She decided to try ibuprofen, but is still experiencing discomfort. She asks if you can recommend a product that will help ease her pain.
Click here to find out what advice to give Gill
Advice for Gill
When paracetamol or ibuprofen alone don't relieve pain, the NICE Clinical Knowledge Summary, Analgesia - mild to moderate pain, recommends that paracetamol can be added to ibuprofen.2
So in this instance, you could recommend Nuromol Dual Action Pain Relief to Gill, which is a paracetamol and ibuprofen combination.
Managing low back pain3
For customers with low back pain, there is separate NICE guidance (NG59 Low back pain and sciatica in over 16s - assessment and management). Oral non-steroidal anti-inflammatory drugs (NSAIDs) can be considered for managing low back pain, taking into account potential differences in gastrointestinal, liver and cardio-renal toxicity, including age. Oral NSAIDs should be used for low back pain at the lowest effective dose for the shortest possible period of time. While NICE recommends that paracetamol isn't offered alone for the management of low back pain, Nuromol Dual Action Pain Relief could be offered if ibuprofen alone doesn't manage a customer's pain.
(Note: Nuromol Dual Action Pain Relief can only be recommended for adults aged 18 years and over.)