Buscomint
Herbal medicinal product for multi-symptom relief in IBS such as abdominal pain, minor abdominal spasms and flatulence.
Suitable for: Adults and children over 12 years of age (who weigh over 40kg). Not suitable for pregnant or breastfeeding women.
Posology: One gastro-resistant capsule 3 times a day for patients who weigh at least 40kg. They must not be chewed, crushed or broken before swallowing. To be taken 30 minutes before meal with plenty of liquid. Benefits:1
Multi-symptom relief in IBS
Effective relief of abdominal pain and cramps, bloating and flatulence
Targets the source of abdominal pain
For symptomatic treatment for up to two weeks
Can be taken for up to three months for persistent symptoms
Well tolerated.
Reference: 1. Buscomint SPC: https://www.medicines.org.uk/emc/product/11329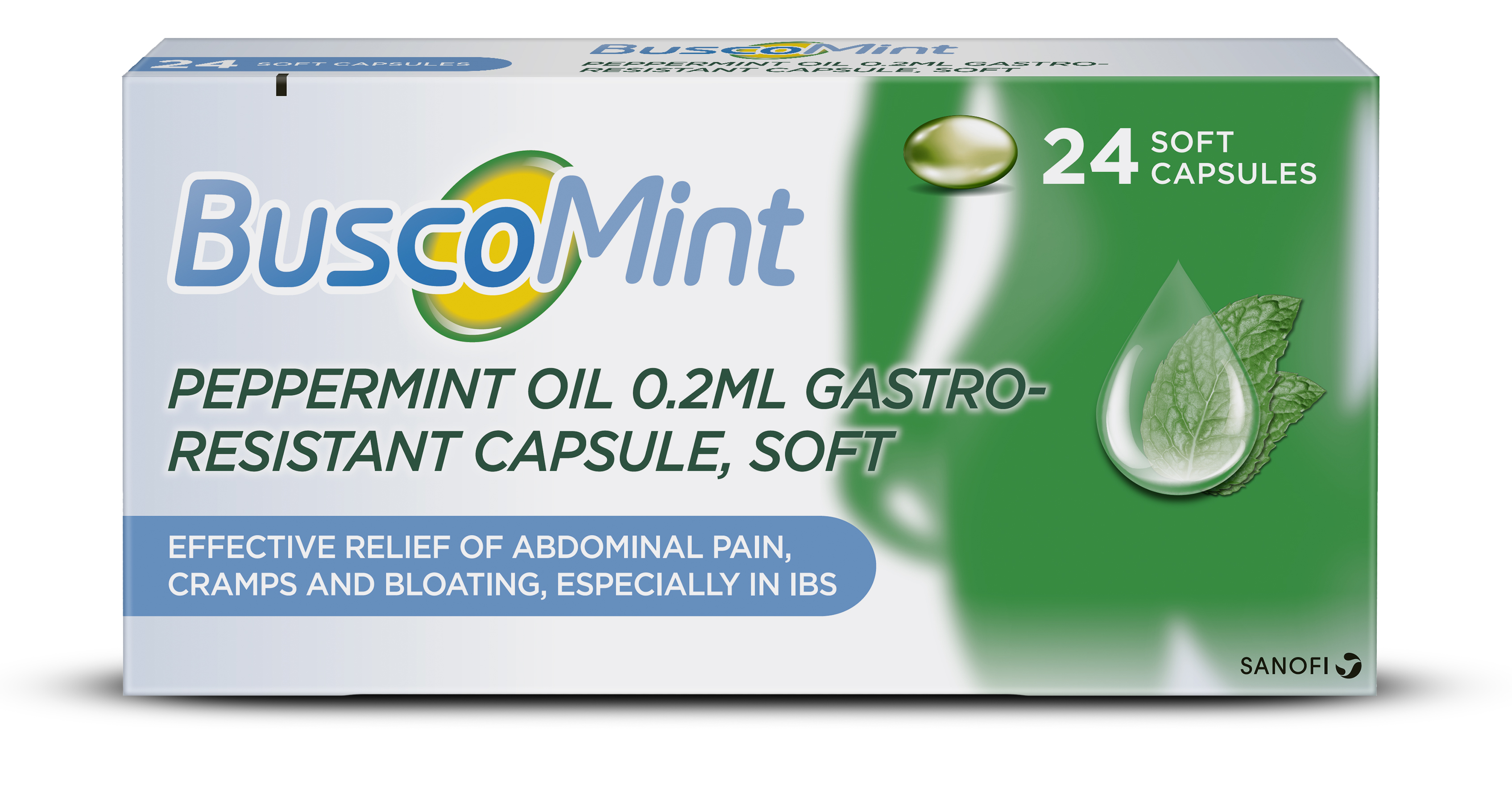 Peppermint oil 0.2ml
Buscomint® Peppermint oil 0.2 ml gastro-resistant capsules
Product Information
Presentation: Capsules containing 0.2 ml of peppermint oil. Indications: Herbal medicinal product for the symptomatic relief of abdominal pain, minor spasms of the gastrointestinal tract and flatulence, especially in patients with irritable bowel syndrome. Dosage and administration: Adults and children over 12 years (who weigh at least 40 kg): one capsule three times a day. Take capsules 30 minutes before a meal with plenty of liquid. Take Buscomint until symptoms resolve, usually within one or two weeks. After two weeks, seek medical advice in case of persistent or deteriorating symptoms. When the symptoms are more persistent, the capsules can be taken for periods up to 3 months per treatment course. Contraindications: Hypersensitivity to menthol or any of the ingredients, patients with liver disease, cholangitis, achlorhydria, gallstones and other biliary disorders, children under 12 years of age and patients with a body weight less than 40 kg. Warnings and precautions: Swallow the capsules whole to avoid release of the peppermint oil prematurely, which may cause local irritation of the mouth and oesophagus. Patients who suffer from heartburn or hiatus hernia may have exacerbation of these symptoms after taking peppermint oil; treatment should be discontinued in these patients. In case unexplained abdominal pain persists or worsens, or occurs together with symptoms like fever, jaundice, vomiting, changes in bowel movement frequency, or blood in stool medical advice should sought immediately. Contains less than 1 mmol sodium (23 mg) per capsule. Interactions: Food or antacids administered at the same time may cause early release of the capsule contents. Medicines used to decrease stomach acid, like histamine-2 blockers and proton pump inhibitors, may cause premature dissolution of the enteric coating and should be avoided. Pregnancy and lactation: Pregnancy: There are no or limited amount of data from the use of peppermint oil in pregnant women. In the absence of sufficient data, the use during pregnancy is not recommended. Lactation: Clinical data have shown that 1,8 cineol, one constituent of peppermint oil, can be excreted into human breast milk. Buscomint is therefore not recommended during lactation. Side effects: Unknown frequency: anaphylactic shock due to allergic reaction to menthol, muscle tremor, ataxia, headache, blurred vision, bradycardia, heartburn, perianal burning, nausea, vomiting, faeces with abnormal menthol smell, inflammation of the glans of the penis, erythematous skin rash, urine with abnormal menthol odour, dysuria. RRP (ex VAT): 24 capsules £5.83. Legal category: GSL. Product licence number: PL 04425/0757. Product licence holder: Sanofi, 410 Thames Valley Park Drive, Reading, Berkshire, RG6 1PT, UK.
Further information is available from Sanofi, 410 Thames Valley Park Drive, Reading, Berkshire, RG6 1PT. Email: ukmedicalinformation@sanofi.com. Date of preparation: June 2020.
Adverse events should be reported. Reporting forms and information can be found at www.mhra.gov/yellowcard or search for MHRA Yellow Card on the Google Play or Apple App Store. Adverse events should also be reported to Sanofi drug safety department on 0800 0902314