Net closure of 215 pharmacies sees total reach 5-year low
News
Net closure of 215 pharmacies sees total reach 5-year low
In News
Stay up to date with all the news, learning and insight in the world of pharmacy.
Bookmark
Newly published data from the NHS BSA shows that 451 pharmacies closed in 2020-21 while 236 opened, making for a net closure figure of 215.
The NHS BSA's pharmacy services report for 2020-21 shows that In total there were 11,600 active community pharmacies and 112 appliance contractors, which the BSA described as the "lowest number of active contractors since 2015-16". There were 11,800 pharmacy contractors in the previous year, and 11,900 the year before that.
A total of 1.03 billon prescription items were dispensed, a 1.79 decrease from the previous year but 2.35 per cent up from 2015-16. The vast majority – 964 million items, or 93.9 per cent – were dispensed via the electronic prescription service (EPS). This is a 58.6 per cent increase on 2015-16.
The average number of items dispensed per contractor also shrank slightly, down by 0.23 per cent to 87,400. "This is due to a greater decrease in the total number of dispensed items compared to the decrease in dispensing contractors," said the BSA.
Despite the slight year-on-year fall in the number of items dispensed, the total cost of drugs and appliances reimbursed to contractors rose by 3.72 per cent, reaching a six-year high of £8.97bn.
However, the value of single activity fees (SAF) paid to contractors shrank by 2.21 per cent to £1.31bn from £1.34bn, the first decrease in five years.
A total of 2.77 seasonal influenza vaccines were administered by the 9,820 participating pharmacies, a 60.9 per cent increase on the previous year. This record has already been broken in the current flu programme, with 3,007, 714 jabs recorded as of October 28 this year.
In 2020-21, the average pharmacy vaccinated 282 patients against flu, up from 185 the previous year. Pharmacies were reimbursed £26.7m for providing the service and received an additional £27.9m in service fees.
The number of Medicines Use Reviews shrank once more last year to 927,000 due to a cap on the number of MURs pharmacies could provide as NHS England wound down the service. Just under three and a half million MURs were provided in 2018-19 before the cap was announced.
Meanwhile, the number of New Medicine Service consultations shrank 4.5 per cent year on year, from 977,000 in 2019-20 to 933,000 in 2020-21 following five years of increases.
"The change in trend for 2020/21 may have been due to the impact of the COVID-19 restrictions on face-to-face services between patients and pharmacies," said the BSA, adding that pharmacies will be able to offer 'catch up' NMS consultations for patients who did not receive one last year.
The Community Pharmacy Home Delivery Service, which was introduced last April to ensure shielding patients received their medicines during the pandemic and is still available for self-isolating patients, saw pharmacies paid £33.4m for making 5.57 deliveries. March 2021 was the busiest month for the service with 837,000 deliveries made.
Sponsored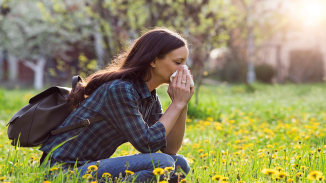 Sponsored education
This module will improve your hay fever knowledge, helping you to understand its impact on sufferers and recommend the right products to ease symptoms
Sponsored education
Identify the 5 key elements to address in your dry skin consultations
Record my learning outcomes
News
Stay up to date with all the news, learning and insight in the world of pharmacy.
In News
Stay up to date with all the news, learning and insight in the world of pharmacy.
Bookmark