CPPE: New e-learning on atrial fibrillation
Learning
CPPE: New e-learning on atrial fibrillation
Atrial fibrillation has been identified as a condition where opportunistic screening could be beneficial. Community pharmacy is perfectly placed to support this screening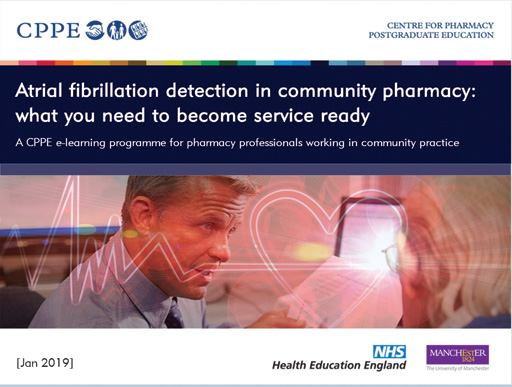 CPPE is introducing a new e-learning programme, 'Atrial fibrillation detection in community pharmacy: what you need to become service ready', which explores current atrial fibrillation detection services in community pharmacy and supports those taking the course to consider their learning and development needs in order to be "service ready".
As part of the programme, learners will be signposted to other learning resources that will cover the clinical aspects of atrial fibrillation, such as how it is diagnosed and managed and how they can support patients through the service by reflecting on their current consultation skills. Learners will also have the opportunity to watch video examples of the atrial detection service being carried out in community practice.
After completing the programme, learners will be able to outline what atrial fibrillation is and how it is diagnosed and managed. They will also be supported with developing an action plan to help them deliver the detection service.
The e-learning programme is an interactive, self-study resource that is intended to take around two hours of study time. It can be viewed and completed on a tablet or PC device and is open to all pharmacy professionals and pre-reg trainees working in community pharmacies.
Workshop
For anyone who prefers face-to-face learning, there will be a workshop on atrial fibrillation in collaboration with West Midlands Academic Health Science Network.
The workshop will focus on the pathophysiology of atrial fibrillation and will give participants the opportunity to discuss treatment options for stroke prevention, symptom control and the prevention of complications. The workshops also aim to support pharmacy professionals to apply medicines optimisation in the context of atrial fibrillation management. Workshops can be booked via the website.
A number of resources on atrial fibrillation and arrhythmias are also available on the gateway page. Resources include a quiz, core and foundation learning on anticoagulation and the new medicine service, assessments and external tools.
More information can be found on the CPPE website.
Sponsored
Understand the important role oral rehydration products play in helping prevent dehydration after illness
This video offers advice and inspiration from pharmacist Ade Williams that you can use to improve your men's health offering
Record my learning outcomes
Learning
Inspiring stories related to health, fitness and the pursuit of wellbeing