The future is services, says PSNC in new video
Latest
The future is services, says PSNC in new video
In Latest
Discover the latest pharmacy news with daily updates and information to keep you in the know.
Bookmark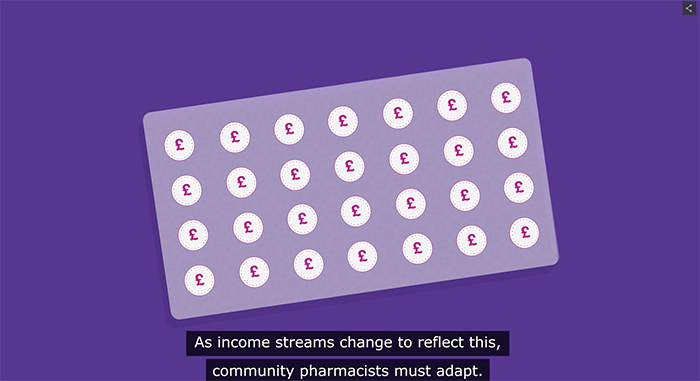 'Future of pharmacy' animation (PSNC)
The changing NHS landscape presents opportunities for community pharmacy but the sector will need to adapt to make the most of these, PSNC has said in its 'Future of pharmacy' video animation, launched today (Tuesday April 30).
The video, launched three weeks after PSNC announced it had entered into talks around the 2019-20 community pharmacy contractual framework (CPCF), describes the work pharmacies do and the value they provide to patients and the NHS.
It also explains how, against the backdrop of an ageing population and an increasingly pressurised health service, the Government wants to make better use of pharmacists' clinical skills through a range of services aimed at keeping people healthy. Negotiating these changes to community pharmacists' remit is part of PSNC's role, the video says.
With a move from a dispensing led-role to one in which services take up more of pharmacists' time looking likely, income streams are likely to change, says PSNC, and pharmacists will need to adapt by making better use of digital technology and the wider pharmacy team to free up their own time to focus on emerging responsibilities. Crucially, pharmacies must also find ways of engaging with the emerging Primary Care Networks, says PSNC.
PSNC recommends that pharmacies:
Speak to other local pharmacies about how to collaborate within PCNs
Talk to GPs about their plans for the future
Take any opportunities to develop skills through training, and to offer new services
Make contact with their LPC.
PSNC chief Simon Dukes said: "It is clear that NHS England wants to make better use of the clinical skills of community pharmacists to help to deliver the NHS Long Term Plan. But we must also not underestimate the challenges that lie ahead for community pharmacy: there will be much to do to find new ways of working that release the capacity needed for these new roles.
Mr Dukes said the first step for contractors was to engage with other pharmacy businesses, and that while sector bodies such as PSNC, the NPA and the RPS will "offer as much support as we can," the process "must be driven at a local population level".
Dukes: We all need to play our part
The animation launched shortly after Mr Dukes posted a blog post on the CPCF talks, in which he said that PSNC was "preparing for some challenging discussions on funding and reimbursement, and on how we can free up capacity within the sector."
"The Government is our only payer and so our leverage is often limited, but rest assured that we will use all that we have robustly," said Dukes.
While he said he could not "talk about our negotiating positions in public," he reiterated that an NHS 111 national minor illnesses referral service, the Healthy Living Pharmacy programme and the future of Medicines Use Reviews are among the items on the agenda.
Calling for cooperation from contractors and other stakeholders, Mr Dukes said: "As we go into what will be a crucial period for community pharmacy, I cannot stress enough that we are on your side. But we will also need contractors to play their parts as we go along. The challenges for community pharmacy must be faced and addressed by everyone in the sector, working together, not against one another."
Sponsored
Sponsored education
With research suggesting a possible link between COVID-19 and EPs, make sure you're confident discussing EPs and their treatment with customers
Sponsored education
Work through a customer consultation to determine the possible cause of stinging, gritty eyes and recommend an effective treatment to help ease these symptoms.
Record my learning outcomes
Latest
Discover the latest pharmacy news with daily updates and information to keep you in the know.
In Latest
Discover the latest pharmacy news with daily updates and information to keep you in the know.
Bookmark