Pharmacies need share of NHS £3bn, NPA tells Stevens
Latest
Pharmacies need share of NHS £3bn, NPA tells Stevens
In Latest
Discover the latest pharmacy news with daily updates and information to keep you in the know.
Bookmark
National Pharmacy Association chief executive Mark Lyonette has written to NHS England & Improvement chief Simon Stevens urging him to give community pharmacies a share of the £3 billion in new funding for the NHS announced today (Wednesday November 25) in chancelor Rishi Sunak's spending review.
In his letter, Mr Lyonette warned the community pharmacy network is at risk of "falling over" without funding to cover the costs it has incurred during the Covid-19 pandemic.
He also said many pharmacies "will be unable to survive" if "current pharmacy funding arrangements continue unchanged," leading to reduced health services in local communities and further pressure on the NHS.
As part of the spending review, £1 billion will go towards addressing backlogs caused by delayed operations, scans and checks, £1.5 billion will reduce existing pressures in the NHS and £500 million will improve mental health services.
"We were delighted to hear that the chancellor will announce a further £3 billion funding for the NHS in the spending review this week. We very much hope that some of this extra funding will be used to prevent the community pharmacy network falling over and help us keep the doors open for vital NHS care," Mr Lyonette said.
A report by Ernst and Young earlier this year, commissioned by the NPA, revealed the income of three-quarters of family-owned pharmacies in England will fall by over £40,000 a year by 2024, with community pharmacy facing a £500 million funding gap.
"Funding has been dropping in real terms for four years and is set to carry on this path for a further four years under current arrangements," the NPA said.
Responding to the chancellor's spending review, Royal Pharmaceutical Society England board chair Claire Anderson said she hoped the chancellor's funding commitment "translates to investment in pharmacy teams working on the ground".
"We wrote to the chancellor earlier this year, calling on the Government to recognise the vital contribution of pharmacists on the frontline of Covid019.
"They must be included in future pay rises for health and care staff."
Leyla Hannbeck, CEO of the Association of Independent Pharmacy Multiples, commented: "Last year 405 community pharmacies were forced to closed their doors unable to sustain overheads or purchasing obligations. The current community pharnacy funding is inadequate and an increasing number of pharmacies closing means millions of patients will be denied the access to local healthcare.
"Dispensing has risen 4.3 per cent in the past five years and not only have we delivered record breaking flu vaccinations this year; only last week it was announced that the age for government funded flu vaccinations been lowered to 50 year olds and the sectors is also looking forward to playing a key role in the delivery of the Covid vaccination.
"We are proud to support the local community, but we need investment in the sector now more than ever to avoid further closures and to reach our potential."
Sponsored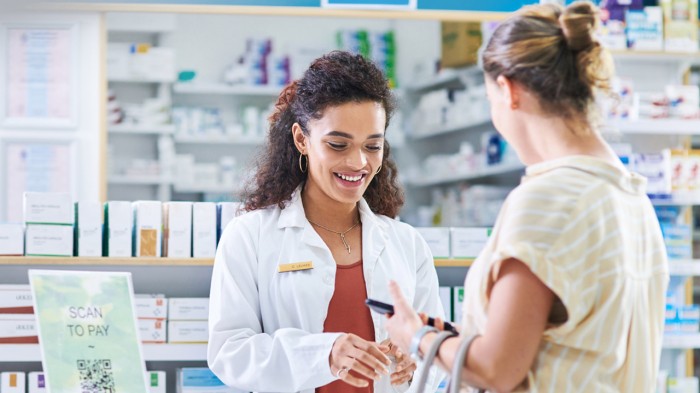 Sponsored education
Refresh your knowledge on managing mild to moderate pain and understand when a combination product can help.
Sponsored education
Safely recommend the most effective laxative for every customer with constipation
Record my learning outcomes
Latest
Discover the latest pharmacy news with daily updates and information to keep you in the know.
In Latest
Discover the latest pharmacy news with daily updates and information to keep you in the know.
Bookmark