Sigma day 1: contract negotiations to begin shortly
Latest
Sigma day 1: contract negotiations to begin shortly
In Latest
Discover the latest pharmacy news with daily updates and information to keep you in the know.
Bookmark
Negotiations on the new community pharmacy contractual framework are due to begin "shortly". They will seek to develop complementary services to those in the new GP contract and cement pharmacy as the first point of call for dealing with minor illness, according to pharmacy minister Steve Brine, speaking in a pre-recorded video message shown today (February 17) at the Sigma conference.
The Government is "crystal clear" in its belief that community pharmacy plays an important role in keeping people healthy for longer in their communities, he stressed. However, he wants to see pharmacy better integrated into the NHS and to embrace "more fully" its role as the first point of call for health advice.
The "hugely influential" NHS Long Term Plan sets out the Government's ambitions to better utilise the skills and reach of pharmacists to deliver more services to improve patient care and relieve pressure on other parts of the system, he said. "These are ambitions I know the sector can deliver on."
The future community pharmacy contractual framework will play an important part in enabling these developments in England, Mr Brine continued.
Looking to build
Pilots undertaken through the Pharmacy Integration Fund have played a key role in helping the NHS understand how the new arrangements might work. Schemes such as the urgent medicine supply service and digital minor illness referral service "have clearly demonstrated community pharmacy's ability to ease the pressure on other parts of primary care". The Government will look to build on these pilots in the national framework, he said.
However, it is not all about new services but also maximising existing provision. The Government fully recognises the value community pharmacists bring to medicines supply and will work with PSNC to make better use of pharmacists' skills and knowledge to ensure the safety and optimisation of drugs, so making the most of pharmacists' direct patient contacts.
"This is an area where it is really important the work is joined up across the system and community pharmacists work closely with pharmacists working in GP practices and care homes," he suggested.
It is also important community pharmacy grasps the opportunities afforded by the new GP 'network contracts' outlined in the Long Term Plan as a means of integrating local services. NHS England expects community pharmacy to be involved with and help shape new collaborative arrangements like primary care networks – "you have so much to offer," Mr Brine emphasised.
This is not about taking pharmacists and pharmacy technicians out of community pharmacy, he said. It is about working in partnership and making best use of everyone's skills and assets.
Sponsored
Sponsored education
With research suggesting a possible link between COVID-19 and EPs, make sure you're confident discussing EPs and their treatment with customers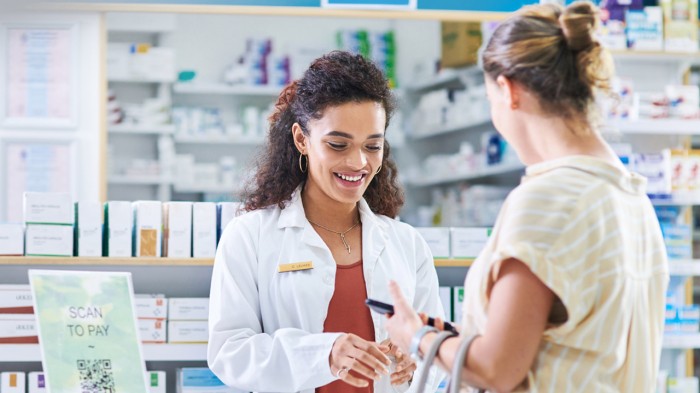 Sponsored education
Refresh your knowledge on managing mild to moderate pain and understand when a combination product can help.
Record my learning outcomes
Latest
Discover the latest pharmacy news with daily updates and information to keep you in the know.
In Latest
Discover the latest pharmacy news with daily updates and information to keep you in the know.
Bookmark