Quarter of BAME pharmacists still awaiting Covid risk assessment
Latest
Quarter of BAME pharmacists still awaiting Covid risk assessment
In Latest
Discover the latest pharmacy news with daily updates and information to keep you in the know.
Bookmark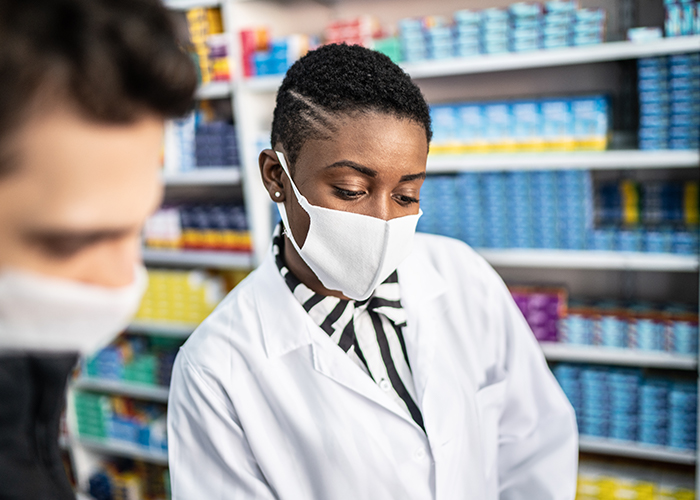 Almost a quarter of BAME pharmacists are still waiting for their employer to conduct a Covid-19 risk assessment, a new survey has found.
The UK Black Pharmacists Association and the Royal Pharmaceutical Society found that 24 per cent have yet to be approached by their employer, despite NHS England & Improvement saying over two months ago that all health workers at high risk from Covid-19 would need a risk assessment.
Black and Asian pharmacists were more likely than white respondents to feel they were at risk of infection in the workplace, and significantly more likely to say their workplace could be adapted to reduce the risk of transmission.
Concerns around the possible consequences of risk assessments were also much higher among black pharmacists (22 per cent of whom were concerned) and Asian pharmacists (18 per cent) than white respondents (six per cent).
Some worried their employer would fail to make any recommended changes, while others feared they would face restrictions to their working practice or workplace discrimination.
The UKBPA and RPS said not enough progress has been made since an initial June survey which found less than a third had been approached by their employer to conduct a risk assessment.
The GPhC has said it is prepared to take action against employers who fail to carry out coronavirus risk assessments,
UKBPA president Elsy Gomez Campos commented on the survey: "It's very worrying that almost a quarter of pharmacists haven't had a risk assessment conducted yet. For the well-being and safety of pharmacists, risk assessments need to be culturally competent and carried out on the whole workforce.
"Assessments which amount to a tick box exercise are unacceptable and as profession we should not tolerate this. It's obvious from the survey respondents that employers could do more to deliver changes to the workplace to reduce exposure to COVID 19."
"Finding out that pharmacy staff are anxious about risk assessments resulting in redundancy, inadequate working practice and potential workplace discrimination is heart-breaking," Ms Gomez Campos said, adding that this "reflects badly on the culture of the workplace".
RPS president Sandra Gidley said: "As we approach winter and potential further pressures from Covid-19, it's critical that pharmacists are able to practise without the additional worry and anxiety that precautions to protect them from the virus are inadequate.
"There must be no repercussions of the risk assessment on the employment of pharmacy team members. Full risk assessments must be put in place to properly assess all pharmacy staff, so they feel safe in the workplace while providing are for patients."
Latest
Discover the latest pharmacy news with daily updates and information to keep you in the know.
In Latest
Discover the latest pharmacy news with daily updates and information to keep you in the know.
Bookmark