Let pharmacies re-use unopened medicines says BMA chair
Latest
Let pharmacies re-use unopened medicines says BMA chair
In Latest
Discover the latest pharmacy news with daily updates and information to keep you in the know.
Bookmark
Regulations should be relaxed to allow community pharmacists to re-use medicines that have been returned to the pharmacy unopened, the chair of the BMA's general practice committee has said.
Writing to pharmacy minister Jo Churchill last week with his recommendations for reducing primary care's carbon footprint, Dr Richard Vautrey said the relaxation of medicine re-use rules for care homes during the Covid-19 pandemic was an example of innovative working that could reduce the NHS's environmental impact.
"Following a review of existing regulations, this relaxation could be extended to primary care and community pharmacy, allowing pharmacists and clinicians to make use of medicines that are returned in unused packaging and providing a significant reduction in medicines waste."
Carbon footprint labelling
Dr Vautrey also recommended that all medicines should be labelled using the 'RAG' (red, amber, green) system to identify their carbon footprint. There would be an onus on manufacturers to undertake an "independently validated methodology to assess the total environmental impact of all medications," he said.
Reducing unnecessary prescribing is another way to reduce the impact of healthcare on the environment, he said, adding that this "can be facilitated through the incorporation of validated de-prescribing tools into the general practice operating system".
It is estimated that 65 to 90 per cent of the general practice sector's carbon footprint is due to pharmaceutical prescribing, Dr Vautrey told Ms Churchill.
Green fund for GPs
Dr Vautrey said there were "many lessons" from the Covid-19 pandemic that can help the healthcare sector tackle climate change.
"An enforced increase in remote working and consultations has shown us that we can work effectively in different ways, improve access and convenience for patients and also help to tackle climate change at the same time."
He called on the Government to create a 'green fund' for GPs that could be used to facilitate remote working, help switch to lower carbon energy sources and recycle energy consumables.
"Existing initiatives, such as the incentive to move patients towards low carbon inhalers, are a step in the right direction and need to be brought under a dedicated, wide-reaching programme which facilitates practice-level analytical activities and benchmarking," he said.
Sponsored
Sponsored education
Identify the 5 key elements to address in your dry skin consultations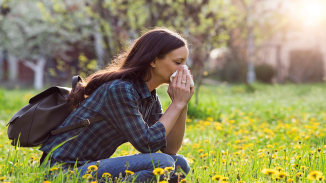 Sponsored education
This module will improve your hay fever knowledge, helping you to understand its impact on sufferers and recommend the right products to ease symptoms
Record my learning outcomes
Latest
Discover the latest pharmacy news with daily updates and information to keep you in the know.
In Latest
Discover the latest pharmacy news with daily updates and information to keep you in the know.
Bookmark