Claims Boots-Microsoft deal will reduce health sector pressures
Latest
Claims Boots-Microsoft deal will reduce health sector pressures
In Latest
Discover the latest pharmacy news with daily updates and information to keep you in the know.
Bookmark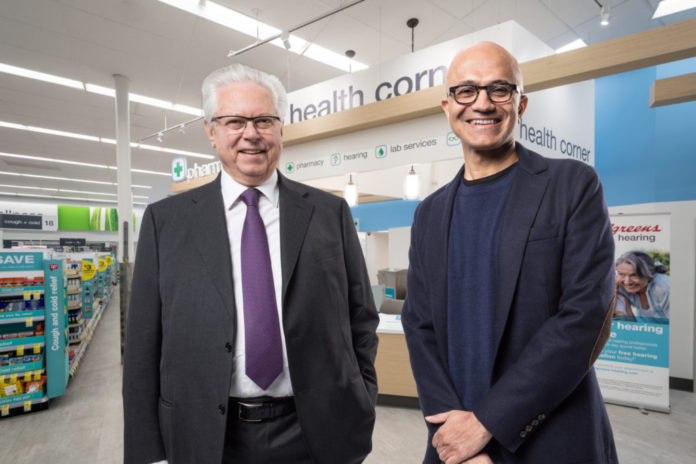 Walgreen Boots Alliance CEO Stefano Pessina and Microsoft CEO Satya Nadella
A new seven-year deal signed by Walgreen Boots Alliance and Microsoft will see the tech player become the pharmacy business' cloud provider and will see the two companies launch a number of joint enterprises, including "virtual care" schemes they claim will reduce pressure on secondary care.
A joint statement says the strategic partnership will see WBA migrate the majority of its IT infrastructure onto Azure, Microsoft's cloud and artificial intelligence (AI) platform, which the companies claim will lead to "new transformational platforms in retail, pharmacy and business services, new capability in data and analytics, as well as certain legacy applications and systems".
It will also involve Microsoft being 365 rolled out to over 380,000 employees on a global basis. It is hoped the 365 rollout will lead to "increased productivity, advanced security, internal collaboration and customer engagement".
The companies are to embark on a multi-year R&D investment "to build healthcare solutions, improve health outcomes and lower the cost of care," with focus areas including funding, subject matter experts, technology and tools.
The statement adds that the companies will "also explore the potential to establish joint innovation centres in key markets" and that this year WBA will pilot 12 'store-in-store' "digital health corners" selling healthcare hardware and devices manufactured by Microsoft.
Virtual care
The statement refers to a joint focus on "connecting WBA stores and health information systems to people wherever they are through their digital devices".
The companies claim this will "allow people to access healthcare services such as virtual care… [and] enable valuable insights based on data science and AI."
The companies say that they will cooperate with healthcare providers to help patients improve medication adherence and that their efforts will ultimately lead to reduced pressure on secondary care by reducing hospital re-admissions and emergency room visits.
Following a challenging financial quarter for WBA, Boots UK recently announced it had acquired digital health company Wiggly-Amps, giving the pharmacy multiple access to software that can link Boots customers directly to GP records for ordering prescriptions online.
Healthcare presents a "complex challenge"
Microsoft CEO Satya Nadella said: "Improving health outcomes while lowering the cost of care is a complex challenge that requires broad collaboration and strong partnership between the healthcare and tech industries.
"Together with Walgreens Boots Alliance, we aim to deliver on this promise by putting people at the centre of their health and wellness," combining Microsoft's technological offering with WBA's healthcare experience, Mr Nadella commented.
WBA CEO and executive vice chairman Stefano Pessina said: "Our strategic partnership with Microsoft demonstrates our strong commitment to creating integrated, next-generation, digitally enabled healthcare delivery solutions for our customers, transforming our stores into modern neighbourhood health destinations and expanding customer offerings."
"We will work with Microsoft to harness the information that exists between payors and healthcare providers to leverage, in the interests of patients and with their consent, our extraordinary network of accessible and convenient locations to deliver new innovations, greater value and better health outcomes in healthcare systems across the world."
Latest
Discover the latest pharmacy news with daily updates and information to keep you in the know.
In Latest
Discover the latest pharmacy news with daily updates and information to keep you in the know.
Bookmark