Long read: Wearable health technology
Analysis
Long read: Wearable health technology
In Analysis
It's time to delve deeper into health discussions. Broaden your understanding of a range of pharmacy news and topics through in-depth analysis and insight.
Bookmark
When wearable health technology first appeared in the UK, devices functioned mainly as pedometers to motivate people to walk more steps every day. While some devices still focus purely on step counts, most are no longer just about fitness but overall behaviour modification and everyday healthcare.
A Mintel report in November 2020 on 'Wearable technology (including impact of Covid-19)' estimated the sales of wrist-worn wearables to be 5.5 million units in 2020, a growth of 2 per cent on 2019. Further growth has been slowed by Covid-19, but with gym closures there has been greater reliance on smartwatches to track exercise.
"Thanks to Covid-19, we could be entering a period where these wearable health devices become essential and not just a novelty for the few," says Dr Vincent Grasso, global head of healthcare and lifesciences at Amelia, an IPsoft company.
"Combined with the increasing technical prowess of smartphones, they have provided a solid platform to deploy a wide range of ever more complex medical apps. These include video conferencing for tele-consultation, capture or cardiac, respiratory, motion and other related physiological data."
Consumer devices
Entry-level fitness trackers tend to be lightweight, and many now monitor heart rate as well.
Smartwatches may also measure blood pressure, blood oxygen levels, ECG and heart rhythm irregularities. They offer more advanced features, including phone notifications and integrated apps to track diet, hydration and physical activity.
Some devices can even be used for mental health, offering meditation and breathing exercises, and monitor sleep patterns and menstrual cycles, while others are designed specifically for children.
"This year in particular, the ability to read one's oxygen saturation, heart rate and temperature has been invaluable in monitoring whether or not the wearer is suffering from symptoms of Covid-19," says Dr Gero Baiarda, GP and clinical director of GPDQ.
"These readings can usually be uploaded onto Google Fit or equivalent iOS apps, so it is easy for the wearer to monitor his or her health improvements over time, as well as daily differences in things like sleep levels and time spent active."
Thanks to Covid-19 we could be entering a period where these wearable health devices become essential and not just a novelty for the few
Product choice
As with all technology, devices vary in accuracy and ease of use, not necessarily related to their price. Any customers wishing to buy wearables (or pharmacies wishing to stock them) should read the reviews first. It is important to stress to customers that these are not medical devices, so they shouldn't rely on them if they are feeling unwell or are worried about any aspect of their health.
Users may be able to download a 'wellness' report or compile data over a period of time, but many healthcare professionals don't consider the data to be accurate enough to use in any diagnosis.
Convenience is often the most important factor when choosing the right product. "Many of the devices have similar features, but it is important to consider the user's activity levels and what they are using the wearable to track," says Dr Baiarda. "Generally, the main factors to look out for are battery life and the degree of water resistance.
"If the aim is primarily to track health, then there is probably no need for the device to be able to link to a smartphone. The apps that go with the devices vary widely in their compatibility with smartphones. This should be a priority factor when recommending a device or app, especially if the user isn't that adept with complicated technology."


Available apps
According to a Mintel report in July 2020 on 'Health and technology: including impact of Covid-19', there are over 320,000 health and wellness apps and services available, with the demand for apps likely to increase as more people take an active interest in maintaining and managing a healthy lifestyle.
The 'National Health Servers: delivering digital health for all' report, published by the Social Market Foundation in May 2019, stressed the benefit of apps is that they harness a technology that many people already own and use (i.e. a smartphone, tablet or laptop) rather than having to buy a separate wearable device.
The online NHS App Library recommends a range of apps for physical and mental health. Some apps are free, while others need to be bought or offer in-app purchases.
Michelle Riddalls, chief executive officer of PAGB, the consumer healthcare association, says a relatively small number of apps harness technology to encourage self-care for minor ailments. "In our recent digital audit, we called on the NHS to review the self-care apps that are currently available and ensure the best ones are clearly signposted both on the NHS website and via the NHS app," she says.
"Healthcare professionals, including pharmacists, could draw on this list of 'quality-assured' self-care apps to discuss options with individuals seeking recommendations."
Customers with long-term conditions may find it helpful to use self-management apps. "Self-management is a core part of taking care of chronic conditions and can help a patient keep symptoms, flare-ups and even disease progression at bay," says Ana Ibarra, inflammatory bowel disease lead clinical nurse specialist at Barts Health NHS Trust, who has been using Ampersand's My IBD care app for her patients.
"Monitoring includes areas such as assistance in medication adherence and mood tracking, which supports patients to develop a routine for their medication as well as record and observe patterns of their condition such as how a new medication may affect their lifestyle."


Older people and wearable tech
Wearables are often considered to be more appealing to younger people, but research shows that older people can benefit as well. According to Zillah Moore, director at Tunstall Healthcare, wearable technology can enrich the lives of older people, including those living with long-term conditions such as dementia, and can connect vulnerable individuals to doctors and family members.
"We know wearable activity trackers can be used to benefit older people to measure aspects such as heart rate, physical activity, diet and sleep," says Professor Shailey Minocha, professor at the Faculty of Science, Technology, Engineering and Mathematics (STEM) at The Open University. "Activity monitors can help to optimise physical activity levels to prepare for surgeries and during post-surgery rehabilitation."
Some smartwatches can detect hard falls and prompt users to notify emergency services if required. Other devices are specifically aimed at older people, so that their health (and location) can be monitored, enabling them to retain their independence.
Healthcare wearables
Some hospitals are issuing wearables to patients with specific medical conditions (e.g. diabetes) to help to monitor them effectively once they have been discharged. The data can be incorporated into patient records to help in the management of the patient's condition.
Freestyle Libre has been available on the NHS for patients with type 1 diabetes since April 2019, although availability varies between areas. This device is around the size of a £2 coin and sticks to the upper arm. The device measures glucose levels continuously throughout the day by measuring the amount of sugar in the interstitial fluid under the skin. The data is relayed to an e-reader device or smartphone app. Patients can buy the Freestyle Libre device, either online or from some pharmacies.
Pharmacy customers can also buy a clinically validated wearable blood pressure monitor (e.g. Omron HeartGuide), which also monitors heart rate, steps, distance, calories and sleep. Like a smartwatch, it can link to a smartphone and display some (limited) notifications. It is an expensive purchase but may appeal to customers who need to take their blood pressure regularly for medical reasons.
Surge in use of NHS technology
Digital services provided by the NHS saw a huge increase in usage throughout 2020 as a result of social distancing and the need to access healthcare remotely. Some of the services that have seen the biggest increases include:
NHS website: Usually attracts around 360m visits a year but at the time of writing (November 2020) had had an estimated 803m visits
NHS App: On December 11 2019, some 192,676 people were using the NHS App. Fast forward to December 13 2020 and this figure had increased by 912 per cent to 1,951,640 users
Electronic prescription service (EPS): The number of EPS nominations increased by 25 per cent in the last year – from 33.07m on December 13 2019 to 41.34m on December 11 2020
NHS 111 online: In the six months to November 2020, NHS 111 online recorded 3,569,917 sessions – a 257 per cent increase on the same period in 2019; 860,213 were Covid-related.
Sponsored
Sponsored education
Identify the 5 key elements to address in your dry skin consultations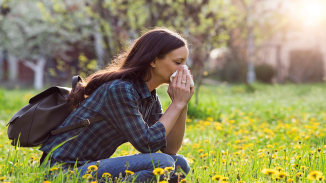 Sponsored education
This module will improve your hay fever knowledge, helping you to understand its impact on sufferers and recommend the right products to ease symptoms
Record my learning outcomes
Analysis
It's time to delve deeper into health discussions. Broaden your understanding of a range of pharmacy news and topics through in-depth analysis and insight.
In Analysis
It's time to delve deeper into health discussions. Broaden your understanding of a range of pharmacy news and topics through in-depth analysis and insight.
Bookmark