Closing the transfer of care gap
Practice
Closing the transfer of care gap
An innovative referral scheme is tackling the transfer of care chasm that exists between hospital and community pharmacy.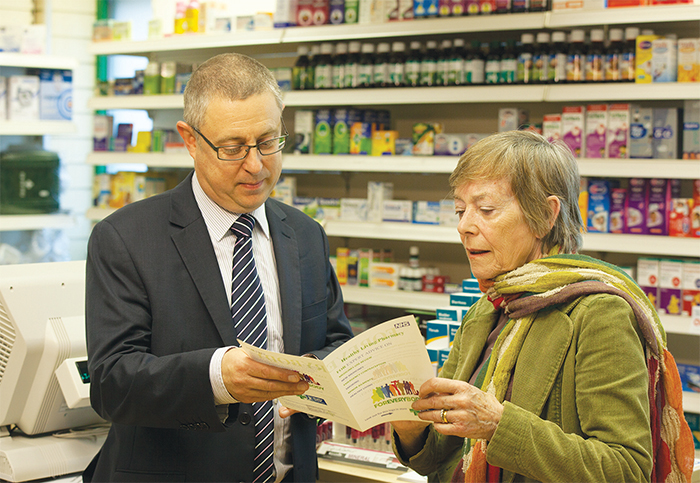 The NHS is admired the world over but when it comes to transferring patients between secondary and primary care, communication between the two is disjointed at best and non-existent at worst. The people who suffer most as a result of this failure to communicate are patients.
Several pharmacy services have been set up to try and smooth the transition – postdischarge medicines use reviews and the new medicine service in England are two cases in point – but many patients don't understand what these services are and therefore don't engage with them.
This was the conclusion Alistair Gray, clinical services lead pharmacist at East Lancashire Hospitals NHS Trust, came to after leading a project that involved providing patients with information about what community pharmacy could offer them. Acting on his findings, Alistair is now spearheading an initiative that aims to close the transfer of care gap.
It took three years but Refer-to-Pharmacy (R2P) is now live. Three years might sound a long time, but Alistair has been unwavering in his determination to build an electronic tool that is quick and easy to use for both hospital and community pharmacy teams, can be adapted to implement changing needs (such as a new service), and is robust, effective, efficient and – potentially most importantly – scalable. It could have been done quicker, he says, but it would not have been done properly.
Simple yet effective
The beauty of R2P is its simplicity, both in idea and execution. Referrals can be made at any point in a patient's hospital journey.
For example, if someone is identified as using a multi-compartment compliance aid during a medicines reconciliation on admission, a message is sent to the patient's chosen community pharmacy so dispensing can be paused in order to reduce medicines wastage. A second message is automatically sent as the patient leaves secondary care in order to provide discharge information and flag up any services that may be beneficial, although the latter may occur earlier during the patient's stay.
The whole referral is done electronically with minimal key strokes due to it being integrated into the hospital's IT systems. For instance, the patient's barcode is scanned from his/her notes or inpatient wristband and drop-down menus are used to select the most appropriate service rather than having to manually type the details, making it easy for hospital staff to incorporate into their already busy ward rounds.
A short video explaining what community pharmacy can offer is shown to patients using bedside TVs. This makes the process much less demanding for the hospital team and has the added benefit of raising awareness that community pharmacy can do much more than just dispense prescriptions and sell OTC medicines. The other end of the referral is just as straightforward.
Community pharmacies receive notifications via fax, email or text message that prompt them to log into their R2P account and accept the referral. Doing so also allows access to the discharge letter, meaning the pharmacy receives exactly the same information at the same time as the patient's GP.
They can then take whatever action is necessary, such as updating the patient medication record to reflect any changes in treatment or contacting the patient to invite them for whichever service is most appropriate. Referrals are closed once completed and outcomes captured on the web-based system.
Critical mass
The scheme went live towards the end of last year across the five sites that comprise East Lancashire Hospitals NHS Trust and all 155 community pharmacies in the area. In the first four weeks there were 234 referrals. The aim is to have 70 referrals a day once all hospital staff have been trained how to use the system, says Alistair.
"The beauty of this is that it allows patients to be referred at any point of their journey rather than only at the end," he says, "and it also taps into existing services rather than relying on something new being commissioned." This last point is particularly relevant given the funding cuts that have defined the NHS in recent times.
Set-up costs have been shared by the hospital trust, East Lancashire and NHS Blackburn with Darwen CCGs, and IT services and consultancy group Webstar Health. Alistair believes it is a system that will pay for itself very quickly.
"In my trust, we have 8,000 readmissions each year. If R2P cuts that by even 1 per cent, it will save £139,000. I actually think it will save even more than that, not just in decreasing readmissions but also in reducing emergency visits.
"From community pharmacists' point of view, they won't be out of pocket because they will get reimbursed for the services they provide and receiving referrals means they will spend less time on patient recruitment. And it will save time and effort in avoiding dispensing repeat prescriptions for people who have been admitted to hospital.
"It will also help them build relationships with patients, who in turn will increasingly view pharmacy as a first port of call for advice and healthcare and be using medicines safely, which means they will stay well at home." The flexibility of the system means that options can be added for locally available services, he adds, which in East Lancashire's case include a domiciliary medicines support service and the recently introduced national flu vaccination scheme.
 
Why R2P could be so important for the sector
For every medicines reconciliation completed by a non-pharmacy member of staff, there are 1.3 unintended discrepancies
30-70 per cent of patients have either an error or unintentional change to their medicines when their care is transferred
Up to 87 per cent of patients are affected by unintended discrepancies in their medicines after discharge from hospital
Two-thirds of discharge summary letters are inaccurate or incomplete prior to pharmacy screening
Around half of the £300m of medicines wasted each year is avoidable
Every £1 spent on post-discharge MURs avoids £3 of NHS resources going on A&E attendances, hospital admissions and drug wastage.
All figures are from 'Hospital referral to community pharmacy: an innovators' toolkit to support the NHS in England', published by the Royal Pharmaceutical Society.
Proliferation
A huge amount of data is being generated by R2P and researchers at Manchester University's school of pharmacy are working on an evaluation of the service. The results of this will be critical to whether other areas of the country decide to put it into place, but Academic Health Science Networks (AHSN) – the organisations that encourage, identify and support adoption of innovations within the NHS – are already sitting up and taking notice.
Of particular interest is a comparison with PharmOutcomes, another web-based system, conducted by Tricia Roberts, medicines optimisation programme manager for North West Coast AHSN.
PharmOutcomes is well established as a way of collating information, which enables the analysis that is so important to improving the evidence base for community pharmacy services. The recording platform has recently introduced a webpage that can facilitate referral from secondary to primary care.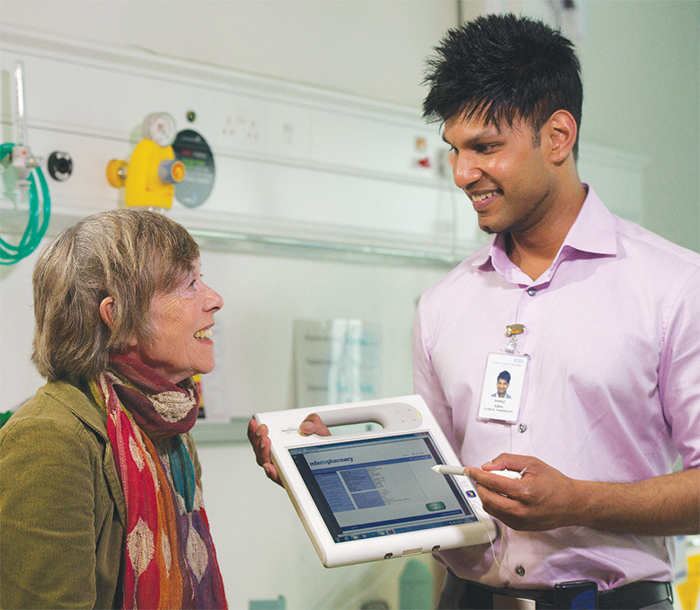 R2P uses pharmacists' knowledge and skills to help patients
Pure pharmacy
Perhaps most telling is the fact the Alistair Gray is happy with the end product. The project took longer than he would have liked, but he has been steadfast in sticking to his requirements throughout and is enthusiastic about what R2P is doing in his trust – and what it could do elsewhere.
"In an era where medicines optimisation is the phrase du jour, it is worth noting that the strapline for R2P is 'Get the best from your medicines and stay healthy at home', which is the very definition of medicines optimisation.
"It is pure pharmacy and that is what is exciting. We are simply closing the loop and using the knowledge and skills that are already out there to help patients. We are really making a difference."
For more information, click here.
Sponsored
Common feeding feeding issues, including coloc, reflux and regurgitation, and some of the ways they can be managed
Upgrade your contraceptive consultations by exploring the interactive pack to learn about a daily oral contraceptive pill
Record my learning outcomes
Practice
Inspiring stories related to health, fitness and the pursuit of wellbeing