In Clinical
Let's get clinical. Follow the links below to find out more about the latest clinical insight in community pharmacy.
Bookmark
The pandemic has made it more challenging for women to access contraceptive services, but new initiatives are putting community pharmacy at the forefront when it comes to helping with their contraception choices
A recent survey by Organon found access to contraception services continues to be a problem for women during the pandemic. One in five (23 per cent) of the women surveyed said they struggle to get an appointment with their GP.
With access to GP face-to-face appointments restricted, community pharmacists can play "a pivotal role" in helping women decide which contraception is right for them, says Sandy Lindsey, Organon's head of women's health, UK, Northern Europe and Israel.
"They are already in that space for emergency contraception and have been for a while," says Lindsey, "and there is a much wider role that pharmacists can take moving forward to help women understand all the choices available to them and how they can be accessed."
Pharmacy provision
The British Pregnancy Advisory Service (BPAS) believes that contraceptive care should be available to women where they want it and at healthcare services women regularly engage with, rather than relying on them to know where to access contraception beyond basic barrier methods.
"Offering contraception outside a clinic setting is essential to enabling women to access their contraception of choice. This is particularly true for groups of women who are least likely to engage in the wider healthcare system including younger women and women from ethnic minority backgrounds," says Katherine O'Brien, associate director of communications and campaigns, BPAS.
"Providing a range of contraception at alternative sites means that provision reaches out to women – and pharmacies are well placed to provide that contraception."
A couple of new developments are a step in the right direction to help more women access the contraception they need. The first is the recent switch of progestogen-only contraceptive pills (POPs) containing desogestrel to P status. Although still available free of charge from doctors and sexual health clinics, Lovima 75mcg film-coated tablets and Hana 75mcg tablets were reclassified following a consultation last year.
The second development is a year-long NHS England pilot, which is looking at widening access to oral contraception by enabling community pharmacies to offer contraceptive pill checks.
Under the first stage of the pilot, patients who are already using hormonal oral contraceptives are able to present at a community pharmacy for a repeat supply. The pharmacist will conduct a clinical check and, if clinically appropriate, make the repeat supply, as well as offering to discuss alternative contraceptive methods and share information about how to change to a new one.
Further stages of the pilot could include ongoing monitoring and management of repeat LARCs, excluding intrauterine systems and contraceptive devices, and potentially initiating some LARCs in community pharmacy.
Meanwhile, August saw the Scottish Government announce plans for a women's health and wellbeing suite of services to be delivered by community pharmacies in an effort to address health inequalities and "improve access to contraception services, including rapid and easily accessible postnatal contraception".
As a result all community pharmacies are now offering a 'bridging contraceptive' service, providing three months of an oral contraceptive following a consultation to make sure that this is safe and appropriate, while patients wait to access their GP or local sexual health clinic to discuss their long-term options.
These temporary supplies are free of charge and can be accessed as a standalone service, as well as being available to women using the existing and extremely successful emergency contraceptive service offered through community pharmacies.
Benefits all round
Broadening the means for women to access and collaborate on decisions around their contraceptive choices fits neatly with the concept of shared decision making – but does more choice make it more confusing for women?
The manufacturers of the new pharmacy-only POPs certainly don't think so. "Not at all," says Anna Maxwell, chief executive of Maxwellia, manufacturer of Lovima.
"We believe that all women should have the right to choose from and have access to effective contraception, and provision of a POP through pharmacy is a change that the Royal College of Obstetricians and Gynaecologists and the Faculty of Sexual and Reproductive Healthcare have been lobbying for."
Alison Slingsby, innovations project manager at HRA Pharma, manufacturer of Hana, says the pill reclassification and NHS England pilot scheme will help to improve access to contraception in a variety of ways. "For those using barrier or natural methods, there could potentially be increased use of a more effective contraceptive. And for those who are already using a contraceptive pill, there will be a potentially improved continuity in their use as the medication will be convenient to access once a prescription course runs out."
Katherine O'Brien of BPAS says previous pilots in which pharmacies were able to provide women with their first prescription of oral contraception have reported success in encouraging uptake, including among women who had not previously taken oral contraception. "The indication is that this type of provision engages with women who are not in contact with other parts of the health service and may have, otherwise, been at risk of unplanned pregnancy," she says.
Looking to the future, BPAS recommends that pharmacies are commissioned via PGDs to provide contraception. "All pharmacists could provide oral contraceptives, or, at a minimum, POPs," says O'Brien, "and more specialised pharmacists could be trained to provide contraceptive counselling and other methods up to and including injections and implants."
However, she stresses that while the recent reclassification of the POP is welcome, women must be able to access NHS-funded contraception, and says that any contraceptive or sexual health consultation should be woman-led, and conducted with respect for privacy and dignity.
"We should learn the lessons from the transition of emergency contraception to a pharmacy medication in the early 2000s, in which the price of the pill was set high and the consultation overly intrusive, which continues to act as a barrier to women accessing this important back-up method of contraception."
Pharmacy toolkit
So how can pharmacists make best use of the products, services and advice at their disposal to support women with their contraception choices?
From a pharmacist's perspective, Alison Slingsby says that to conduct an effective consultation, pharmacists need to be as open and non-judgemental as possible with their customers. "Each customer should be considered on a case-by-case basis as every individual is different and there is no 'one-size-fits-all' approach when it comes to contraception. Pharmacists should also make use of their pharmacy's consultation room, if available, as it can be reassuring for customers to talk privately about their contraception choices."
It is also a good idea to keep up to date with any training and contraception news in order to anticipate any queries about a specific contraceptive that has recently been launched or attracted media attention.
From a customer's perspective, Anna Maxwell says the key is to make women aware that a discussion about contraception is available and welcomed in the pharmacy. "Clear, open signposting for products in-store is vital and ensure you offer a wide range of contraceptive options – this is all about a woman's right to choose what is most convenient and appropriate for her.
"If a woman is interested in the contraceptive pill but perhaps she isn't suitable for the progestogen-only pill, encourage her to make an appointment with a local clinic or her GP but provide her with interim barrier contraception."
The broader range of contraceptive choices has the potential to bring more women into pharmacy up to 12 times a year, which also opens up the opportunity to offer other support products and services, bringing growth to pharmacy sales, Anna Maxwell points out.
"With the correct training and FSRH courses behind them, pharmacists could quite easily have discussions about sexual health and effective contraception with women," says James Woolgar, current chair of English HIV and Sexual Health Commissioners' Group (EHSHCG), Liverpool City Council, "[but] funding and affordability need to be considered to allow them the proper time to do this well and for it not to be at a loss to them individually."
Ultimately, Woolgar's hope is for community pharmacists to become "a more embedded and regularly used part of service commissions and delivery up and down the country".
Accessing contraception can be challenging for women at the best of times and, while the pandemic has not helped in that, it has also highlighted how community pharmacy is ideally placed to make the most of face-to-face interactions with customers. What is needed now are more initiatives that put pharmacy in pole position, not only to educate women about their contraceptive choices but also improve access to them and so support better outcomes for their sexual and reproductive health.
Lovima training video
Maxwellia says it is shaking up the traditional approach to pharmacy training with a new Lovima pharmacy training video.
The 11-minute video features Sukhi Basra, a clinical and community pharmacist, and Lily Phillips, an up-and-coming comedian who recently won the Croydon heat of the BBC New Comedy Awards, and is included in the Women in Comedy Festival line-up.
The training content is delivered through a conversation between Sukhi and Lily, mirroring a typical pharmacy consultation that addresses key questions and includes an appropriate Lovima recommendation in four different scenarios.
"For me the style and content of this new training resource was very impressive and very different to the linear approach to learning we see in other educational resources," says Sukhi. "I felt it reflected a professional but witty approach to our learning as pharmacists."
The pharmacy training video is available here.
Further information
Management of erection problems in men
Erection problems are common and estimated to affect around 5 million men of all ages in the UK.
The most common cause of erectile dysfunction in young men is anxiety, which may include concerns about getting someone pregnant, not wanting to appear inexperienced, or worrying about using a condom.
In middle-aged men, common causes of erectile dysfunction include stress, guilt or having sex with a new partner after many years of monogamy. There may also be health-related causes such as diabetes.
Although 70 per cent of men over the age of 70 years report still being sexually active, erectile dysfunction is more common in this age group as a consequence of deterioration of the blood vessels that carry blood to the penis, and also the deterioration of heart or brain arteries.
Other physical and psychological reasons for erectile dysfunction may include1:
Medication side-effects (mainly medication for blood pressure or depression)
Infection or other illness, such as diabetes
Smoking and/or excessive drinking
Being unfit or overweight
Use of recreational drugs such as cocaine
Stress related to sex and/or other parts of life
Concerns about a current sexual relationship(s)
Depression and related fatigue.
Treatments for erection problems, which include medication or hormone replacement therapy depending on the cause, are usually effective at sorting out the problem.
Sildenafil is available from pharmacy without a prescription – several OTC versions are available including Viagra Connect – and after a consultation with a pharmacist. Tadalafil (Cialis), vardenafil (Levitra) and avanafil (Spedra) all work in a similar way but require a prescription.
Pharmacists can reassure men that the vast majority of physical or psychological causes of erectile dysfunction are temporary and often go away of their own accord but, if the issue continues or does not improve, they could be referred on for the appropriate professional advice.
Talking to a pharmacist may be the first time a man has spoken to anyone about the issue, so take a look at Viagra Connect's checklist of advice for how to make this interaction as easy as possible. Tips include:
Being aware of male customers who are browsing and appear to be waiting for the pharmacist to be free. Be proactive in approaching them
Offering the use of the consultation room to have a private conversation
Showing empathy and using the same language that the customer uses
Making eye contact, smiling and mirroring the customer's body language to help create a rapport.
Using POS material and leaflets for Viagra Connect can also start these interactions, as can running men's health campaigns that tie in with national or other health events, such as Men's Health Week in June or Movember in November. Viagra Connect is currently on air with a TV advertising campaign.
References
Sponsored
Sponsored education
Identify the 5 key elements to address in your dry skin consultations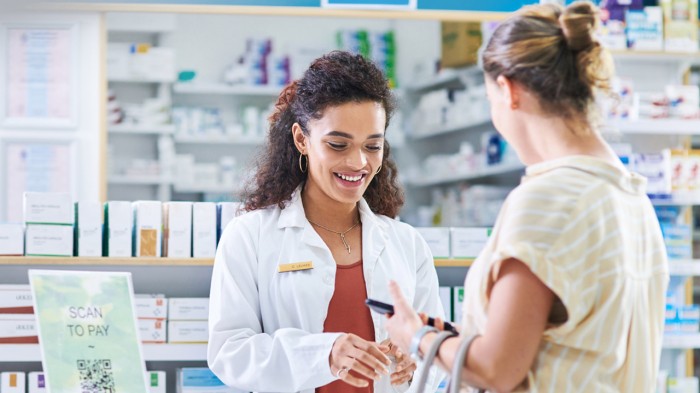 Sponsored education
Refresh your knowledge on managing mild to moderate pain and understand when a combination product can help.
Record my learning outcomes
Clinical
Let's get clinical. Follow the links below to find out more about the latest clinical insight in community pharmacy.
In Clinical
Let's get clinical. Follow the links below to find out more about the latest clinical insight in community pharmacy.
Bookmark