Scenario: Steroids & type 2 diabetes
Practice Scenarios
Scenario: Steroids & type 2 diabetes
In Practice Scenarios
Month by month, take our practice scenario modules and visualise how to put your learning into practice with pharmacy customers.
Bookmark
Would you recognise the predisposing factors that lead to an increased risk of hyperglycaemia with steroid therapy in people with diabetes and the therapeutic options that are available? The UKCPA's Claire Rivett, senior clinical pharmacist in emergency medicine, uses this case study to explain what you should advise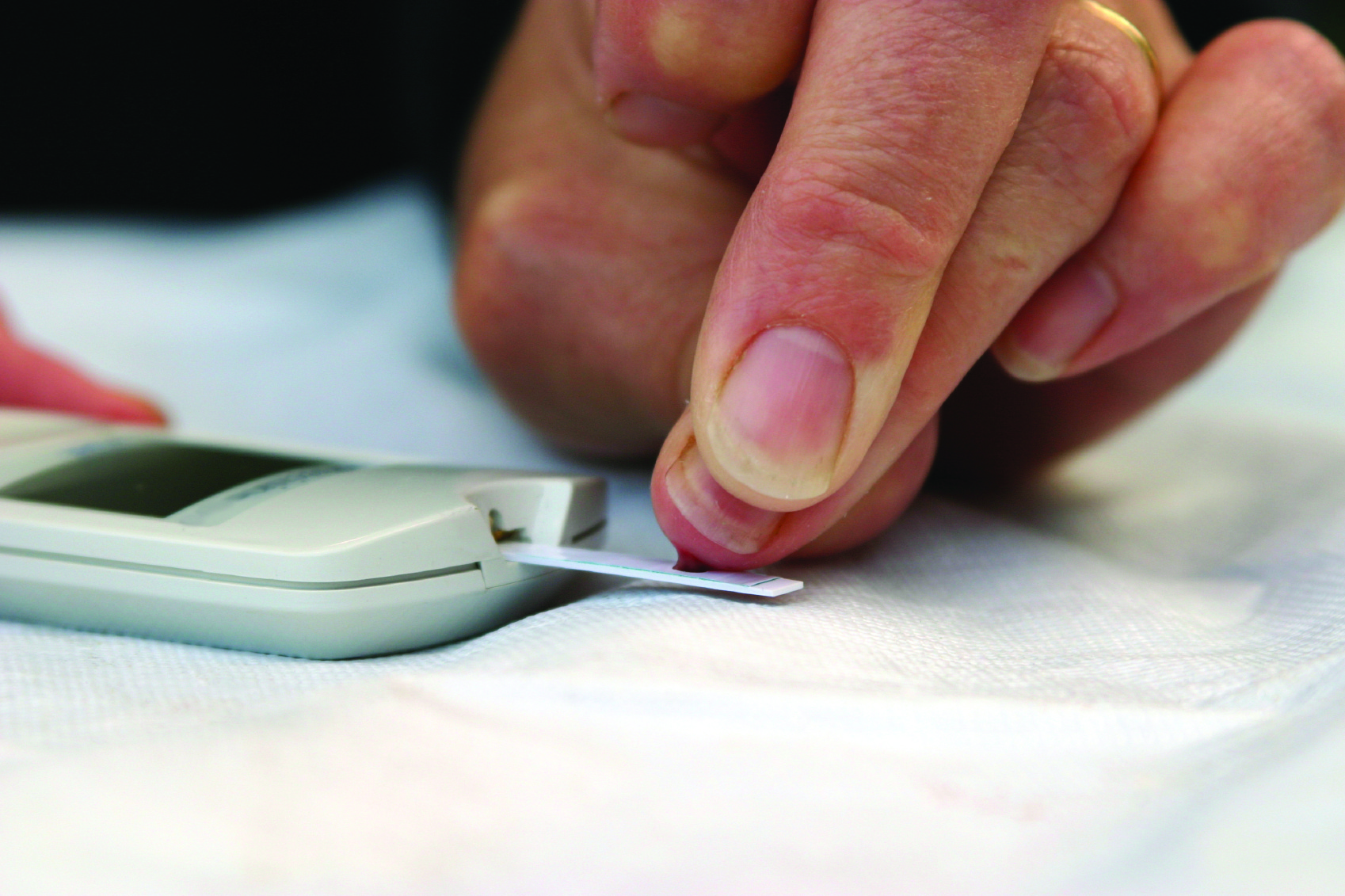 Paul Sowray is 54 years old and has type 2 diabetes and COPD
Paul's medication history:
• Metformin 1g bd
• Gliclazide 80mg bd
• Salbutamol 100mcg/dose inhaler prn
• Trelegy Ellipta 92mcg/55mcg/22mcg, 1 metered dose daily. Rescue packs
• Doxycycline 200mg stat then 100mg daily for seven days
• Prednisolone 30mg daily for seven days
Paul usually tests his blood glucose at least twice daily. His last HbA1c one week ago was 60mmol/mol and he has a routine follow-up appointment in the coming week.
Paul has been suffering repeated exacerbations of his COPD over winter and has been regularly using his rescue packs of medication. He has seen his GP and been diagnosed with a further non-infective exacerbation, for which he has been given prednisolone 30mg daily for seven days and advised to increase his blood glucose monitoring.
How do steroids affect blood glucose control? What is the typical pattern of steroidinduced hyperglycaemia?
Synthetic corticosteroids mimic the effect of endogenous steroids as well as modulating carbohydrate metabolism and inducing insulin resistance via a range of complex mechanisms at numerous stages in the insulin-signalling cascade.
Hyperglycaemia induced by corticosteroids features minimal impact on fasting blood glucose levels and an exaggeration in postprandial blood glucose levels. The degree of elevation is reported to correlate with previous glycaemic control (i.e. patients with poor baseline glycaemic control demonstrate larger fluctuations due to steroids).
Glucose levels in most patients rise four to eight hours after administration of oral steroids. Overnight, blood glucose falls back, often to baseline levels by the next morning.
The effect of corticosteroids on blood glucose is usually transient, ceasing once the steroids are stopped and have been metabolised and excreted from the body.
What predisposing factors lead to an increased risk of hyperglycaemia with steroid therapy?
• Pre-existing type 1 or type 2 diabetes
• People at increased risk of diabetes (e.g. obesity, family history, previous gestational diabetes, ethnic minorities, polycystic ovarian syndrome)
• Impaired fasting glucose or impaired glucose tolerance, HbA1c 42-47mmol/mol
• People previously hyperglycaemic with steroid therapy
• Elderly (>65 years old).
Paul records his blood glucose levels over the following week. The results are shown in table 1 below.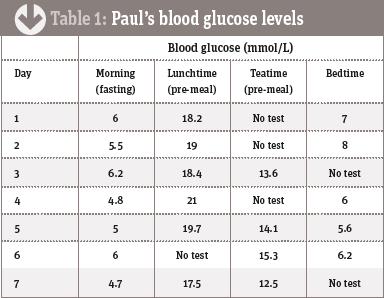 What therapeutic options are there to manage Paul's steroid induced hyperglycaemia?
A short acting sulphonylurea is usually the agent of choice for steroid-induced hyperglycaemia due to the rapid onset of action. Paul's morning gliclazide dose could be increased to counter the rise in blood glucose level he is experiencing before his evening meal.
The Joint British Diabetic Society Guidelines advise that while monitoring is ongoing in this situation, gliclazide may be titrated to a maximum of 240mg in the morning. An evening dose can also be added to a maximum total daily dose of 320mg.
There is currently little evidence and experience to support the use of DDP-4 inhibitors, GLP-1 or SGLT-2 inhibitors in the management of steroid-induced hyperglycaemia/diabetes. Pioglitazone is an option, but the evidence base is weak.
Temporary morning use of basal insulin is a therapeutic option for some patients to closely mimic the glucose variations induced by steroids. This is not indicated at present for Paul. To gain a better understanding of his glycaemic control and the impact of his prednisolone use, his blood glucose testing could be increased to four times daily.
It is important to note that during this period the primary aim of treatment is to prevent hyperglycaemia and its associated symptoms and risks, such as the development of hyperosmolar hyperglycaemic state, rather than tight glycaemic control.
On day six of Paul's prednisolone course, he returns to the surgery and it is found he has had six courses of the steroid over the past three months, so he is prescribed a weaning prednisolone course reducing by 5mg every seven days until stopped. His blood glucose recordings are also reviewed and his morning gliclazide dose increased from 80mg to 160mg. Paul presents this script at your pharmacy.
Actions to take when supplying Paul with this prescription:
• Supply a steroid card alongside the prednisolone
• Advise Paul to take the steroid in the morning with food
• Remind him of the DVLA requirements for blood glucose monitoring if he is driving
• Advise him not to stop the steroids abruptly and follow the reducing regimen
• Check Paul has follow-up arranged regarding his glycaemic control as his steroid dose reduces. It is likely his gliclazide will require down titration as his steroid dose falls
• Provide hypoglycaemic education. While the current concern is about hyperglycaemia, an increased dose of gliclazide will place Paul at increased risk of hypoglycaemia – so it is important he knows how to recognise and treat these symptoms
• Discuss Paul's smoking status and if he wishes to access stop smoking services.
References
• Joint British Diabetic Society, 2014. Management of hyperglycaemia and steroid (glucocorticoid) therapy: abcd.care/sites/abcd.care/files/resources/JBDS_IP_Steroids.pdf
• NICE Clinical Knowledge Summary: Corticosteroids – oral: cks.nice.org.uk/ corticosteroids-oral#!scenariorecommendation:3
• NICE Clinical Knowledge Summary: Diabetes – type 2: cks.nice.org.uk/diabetes-type- 2#!scenario
• NICE Type 2 diabetes in adults: management: nice.org.uk/guidance/ng28/resources/ type-2-diabetes-in-adults-management-pdf-1837338615493
• Mills E, Devendra S. Steroid-induced hyperglycaemia in primary care. London J Prim Care (Abingdon). 2015:7 (5):103-106
• UK Government, 2016. Guidance: diabetes mellitus: assessing fitness to drive: gov.uk/ guidance/diabetes-mellitus-assessing-fitness-to-drive
Sponsored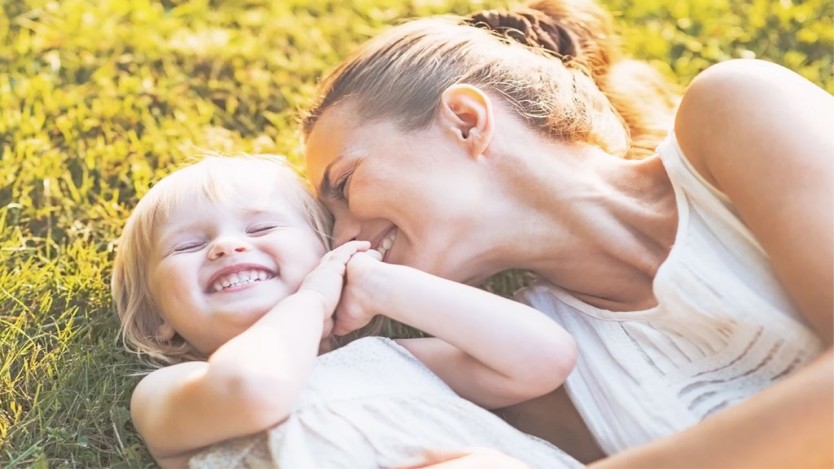 Sponsored education
This interactive video will test and reinforce your knowledge so you can confidently advise parents on common childhood illnesses, such as teething, earache, coughs and colds.
Sponsored education
Identify the 5 key elements to address in your dry skin consultations
Record my learning outcomes
Practice Scenarios
Month by month, take our practice scenario modules and visualise how to put your learning into practice with pharmacy customers.
In Practice Scenarios
Month by month, take our practice scenario modules and visualise how to put your learning into practice with pharmacy customers.
Bookmark