Pharmacy cuts petition delivered to 10 Downing Street
Latest
Pharmacy cuts petition delivered to 10 Downing Street
Yesterday saw the petition against Government plans to cut pharmacy services – with an incredible 1.8m signatures, the biggest ever healthcare petition – presented to the Prime Minister at 10 Downing Street, as MPs debated the matter in parliament and the Department of Health consultation on community pharmacy came to a close.

Ian Strachan, NPA chairman, said: "It is now absolutely clear that the Department of Health has misjudged how people feel about local pharmacies. Patients value the face-to-face support they get at local pharmacies; getting medicines online or seeing a pharmacist by appointment in a GP surgery is not faintly equivalent to the accessible care available in pharmacies.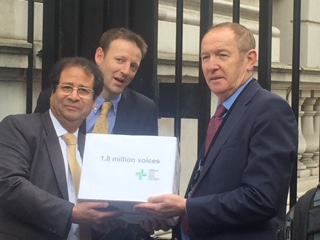 "The Government seems to think that putting a few hundred pharmacists into GP practices is a good swap for the loss of potentially 3000 community pharmacies. I disagree. And so do at least a million and a half patients and concerned citizens. Any changes to the NHS should have the improvement of patient care as the top priority, not simply saving money."

Rob Darracott, chief executive of Pharmacy Voice, added: "The vast support that the public has shown for community pharmacy by signing up in the hundreds of thousands to the petition shows just how valuable our services are as part of primary care in England. At a time when we know GP services are overstretched it would be madness to disinvest in the healthcare professionals ready to help you on the high street."

Dora Shergold, a patient and carer from Wellingborough, said: "I really can't see how this assault on local pharmacies will help anybody. My pharmacy is a lifeline to me as a carer and a patient, and many others. It is very much in the heart of our community."

 
Sponsored
Sponsored education
Viatris has created this short video based on a publication reviewing global research into the potential impact of the Covid-19 pandemic on mental health. It identifies six areas where psychiatrists can play a role in supporting people's mental health through these difficult times.
Sponsored education
Common feeding feeding issues, including coloc, reflux and regurgitation, and some of the ways they can be managed
Record my learning outcomes
Latest
Inspiring stories related to health, fitness and the pursuit of wellbeing